Trump's actions damaged US' international leadership
US President Donald Trump escalated the trade quarrel between the United States and China this week by announcing he intends to impose additional 10 percent tariffs on Chinese imports worth $200 billion.
When and how the trade conflict between the world's two largest economies will end is anyone's guess. However, one thing is clear: The damage it has done to the US' image and global leadership will dwarf any victory he tries to declare. In this sense, the US has already lost "bigly" with its many protectionist and isolationist measures.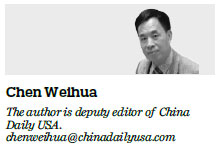 Trump's ignorance is staggering. He believes that trade is a zero-sum game, and that a country with a trade deficit is being taken advantage of by its trade partners.

Today's Top News
Editor's picks
Most Viewed