Satellite success out of this world at Xi'an high-tech park
Government push sees domestic navigation system reach the stars
The satellite navigation industry has taken off in China since it was highlighted as a national strategic industry during the 12th Five-Year Plan period (2011-15).
Both central government ministries and local governments have approved and launched a series of supporting policies, medium-to-long-term development plans, demonstration projects and increased investment to boost the industrial progress and benefit a large group of companies in the sector.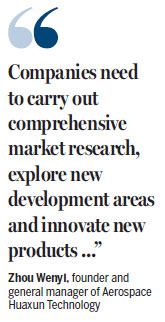 Currently, China's largest satellite network is the Beidou Navigation Satellite System, which has nearly 30 active satellites and is projected to have 35 in total by the end of 2020, at which time it will offer global coverage.
The system's chips, as a core component of navigation and global positioning products, are playing a key role in the advancement of the process.
Leading in the research and development of Beidou chips, Aerospace Huaxun Technology, located in Xi'an Hi-Tech Industries Development Zone, is considered by insiders to be the forerunner and industry leader in satellite navigation chips in China.
The company developed and mass produced the country's first chip for global positioning systems.
Its founder and general manager, Zhou Wenyi, received his doctorate in 1995 and furthered his postdoctoral research at the University of Florida and Bell Labs in the United States.
In 2004, Zhou returned to China to pursue his entrepreneurial dream in Xi'an, capital of northwestern Shaanxi province.
Although GPS chips were already widely used in navigation and positioning at that time, satellite navigation in China was still in its infancy. For Zhou, his entrepreneurship was filled with unknowns and challenges.
Due to a lack of researchers and research and development investment in the beginning, Zhou and his colleagues had to live on the company premises for eight months to save on costs and expenditure.
Their efforts paid dividends in 2006, when Zhou and his team developed China's first high-performance GPS chip with independent intellectual property rights, breaking the long-term market monopoly of foreign products in the segment.
As a distinguished expert in China's Beidou chip project, Zhou is now leading the team to carry out research connected to satellite navigation, positioning and related core communication technologies, resulting in a batch of internationally advanced civil and military radio frequency chips and baseband chips that can be used in the United States-developed GPS, and the systems of Beidou and Russia-developed GLONASS.
During its 14 years of development, Aerospace Huaxun has always kept up with the world's cutting-edge technologies and products to expand its industry chain and improve its technological innovation capacity to meet the needs of Chinese markets.
In 2014, the company won a bid to develop a positioning and management system for police cars in Shaanxi, a new application area for Beidou chips.
Commenting on the industry's current development, Zhou said China's navigation is facing two major problems, one of which is a lack of high-end research companies.
More than 1,000 Chinese companies now engage in the research of navigation chips and manufacturing of related terminal products, but few of them are capable of leading the future development of the industry, he added.
A lack of IP protection is another problem, which causes intense competition and reduced profits, Zhou said.
"Given the current market condition, companies need to carry out comprehensive market research, explore new development areas and innovate new products to gain a place in the industry," Zhou said.
With the future launch of more preferential policies, the Beidou navigation industry is expected to remain in fast development for the long term. Zhou suggested that related chip firms avoid disordered and blind investment, particularly in chip research, and instead give priority to the collection of professional teams to deal with competition from international mainstream chip developers and producers.
Establishment of industrial clusters by domestic chip companies and related consumer product manufacturers is also necessary, he added.
One main reason for Huaxun's success in the industry rests with its unique marketing strategy. The company not only sell its own chips, but also helps its clients promote their products that are equipped with the chips.
In its 14 years, Huaxun has undertaken many major national science and technology projects, authorized 60 patents, and won a batch of science awards and honorary titles.
As a long-established company in the Xi'an Hi-Tech Industries Development Zone, Huaxun has witnessed firsthand the zone's efforts to improve the business environment in recent years, which Zhou said is of vital importance for rapid corporate growth. The initiative has greatly increased the working efficiency of companies and reduced their resource costs.
This year, Xi'an is taking the improvement of its business environment as a top priority, and the high-tech zone has set an ambitious goal of developing one of the best business environments in both the city and the province.
It has so far initiated many related services, such as simplifying national and local taxes into one system, launching a model to provide services at the weekend, issuing nearly 470 simplified administrative and approval procedures, and setting up funds for entrepreneurship and strategic emerging industries. The zone also set a further target to become a world-class sci-tech park by 2020, according to Zhong Hongjiang, secretary of the high-tech zone's Party committee.
haonan@chinadaily.com.cn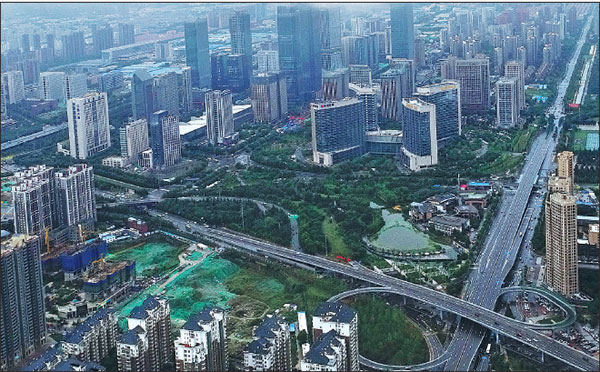 Xi'an Hi-Tech Industries Development Zone is a cradle for high-tech enterprises thanks to its good business environment and favorable policies.Photos Provided To China Daily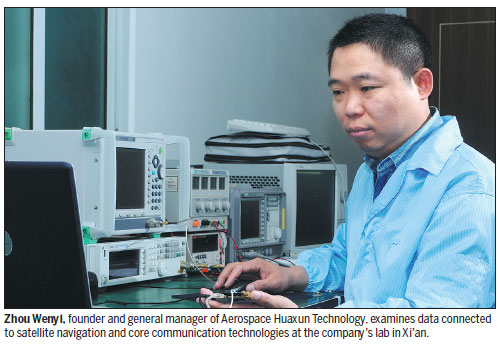 (China Daily 07/13/2018 page7)
Today's Top News
Editor's picks
Most Viewed