Artificial intelligence the brains behind city's drive for better future
Xi'an Hi-Tech Industries Development Zone in Shaanxi province is focusing on artificial intelligence as part of efforts to develop as a science and technology city.
Chinese AI company iFlytek signed an agreement with the zone in late May. According to the agreement, iFlytek will set up a research institution, an innovative entrepreneur platform and its Xi'an branch in the zone.
The intelligent voice tech company will launch projects covering the education, medical and smart city sectors. Xi'an and iFlytek will also promote the automobile, robotics and tourism sectors based on the company's leading AI technologies and industry experience.
"We hope Xi'an will become the main base for iFlytek professionals and will be the testing ground for iFlytek's latest AI technologies," Liu Qingfeng, chairman of the company, said at the signing ceremony.
Xi'an Chishine Photoelectric Technology Co, founded in 2014, has developed many products related to 3D cameras and artificial intelligence, which have been applied in medical plastic surgery, facial recognition, 3D education and entertainment industries.
According to Zhou Xiang, CEO of the company, it has developed 40 independent intellectual property rights and holds the world's largest 3D facial scan database. "In recent years, Xi'an Hi-Tech Industrial Development Zone has promoted the continuous development of high-end advanced technology, such as AI, and has strengthened the driving effects of the high-tech industry," Zhou said.
The zone has released industry plans and supportive policies for AI and brought in abundant scientific research resources from Xi'an Jiaotong University and the Chinese Academy of Sciences' Xi'an Institute of Optics and Precision Mechanics, as well as other universities and colleges in Xi'an. The combination of industry and education has provided good fundamental conditions for development. "I am sure the AI industry in the zone will make more achievements even more quickly in the future," Zhou said.
However, the zone still needs to improve the industrial chain of AI industry, according to the CEO. The suppliers of AI enterprises are mostly located in South China and East China, which has led to a sharp rise in logistics costs, Zhou added.
In addition, the cooperation among AI enterprises and R&D are centered in the regions of Southeast China. Zhou said it has meant that AI enterprises have relatively few opportunities, which limits the progress of local AI players.
Wang Shaofeng, CEO of Shaanxi Rocktech Co, a computer system solution provider, said local AI enterprises have many plans but fewer actual products, and often their research is not connected with market demand. AI is still an emerging industry, requiring experienced professionals and crossover personnel from both AI and traditional industries, he said. "AI has great development potential as it will be integrated with all aspects of daily life. We will explore more real life applications for AI, improve the range of the industry and meet the market demands," Wang said.
Wang's company, founded in 2007, has set up its R&D center in Xi'an, and has sales and service agencies in Beijing, Shanghai, Shenzhen in Guangdong province and Chengdu in Sichuan province.
caoyingying@chinadaily.com.cn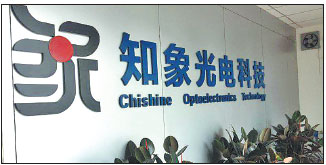 AI products developed by Xi'an's Chishine Photoelectric Technology are used in areas such as cosmetic surgery and industrial testing.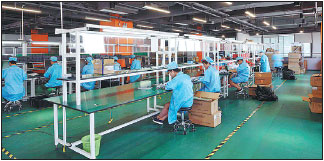 Workers assemble computer equipment at Rocktech's production line in Xi'an.
(China Daily 07/13/2018 page7)
Today's Top News
Editor's picks
Most Viewed