Hubei seeks leading role in opening-up
Hubei province is positioning itself to play a leading role in the development of central China and will serve as a new window for China's overall opening-up, State Councilor and Foreign Minister Wang Yi said on Thursday at an event promoting the province to foreign diplomatic missions.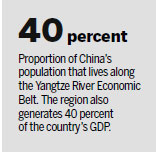 Hubei has been a pioneer in China's revolution and construction, and the province's development in the new round of reform and opening-up is unstoppable, Wang said.
Pakistani ambassador to China Masood Khalid noted at the event that Hubei has made many contributions to the development of the China-Pakistan Economic Corridor, and many companies from the province are carrying out cooperative programs in Pakistan.

Today's Top News
Editor's picks
Most Viewed