Japan conducts clean-up as flood toll reaches 200
Rescue and cleanup efforts are continuing in western Japan after it was hit hard by flooding and landslides caused by record downpours. The worst rain-related disaster since 1982 has killed at least 200, leaving dozens still unaccounted for, Japanese Chief Cabinet Secretary Yoshihide Suga said on Thursday.
Japanese Prime Minister Shinzo Abe on Thursday pledged financial assistance to help local authorities dispose of debris in huge volumes, adding that the government has secured 54,000 privately owned houses and 17,000 public houses to accommodate the evacuees.
There are new fears that reservoirs in Hiroshima prefecture could burst amid rising water levels. Officials have ordered residents in the cities of Higashihiroshima and Fuchu to evacuate.
More than 70,000 Self-Defense Forces members and other rescuers toiled through the debris in a grim search for the missing.
Television footage showed a mother waiting outside her damaged home while rescue workers dug through the ruins for her 18-year-old son.
The government has begun to have a clearer picture of its losses. About 240,000 homes in the region are still cut off from running water. People queued up for water from trucks.
Health warnings
The Fire and Disaster Management Agency said about 6,700 evacuees were in shelters, dropping from more than 30,000 evacuated at one point on Sunday.
Damage caused to agriculture, forests and fishery topped 11.09 billion yen ($98.6 million), according to the farm ministry.
The transport ministry said West Japan Railway Co and other railway operators of 27 train lines suffered damage at more than 100 locations.
The Health Ministry warned people in the disaster-stricken region about heatstroke, infectious diseases and food poisoning. They may get sick if they eat food left out too long as temperatures are high.
A disaster health emergency assistance team, or DHEAT, has been sent to Okayama prefecture to offer the victims of the disaster health support such as tips on preventing infectious diseases or food poisoning. It is the first time that DHEAT has been sent to a disaster area since the Health Ministry started its operation in March.
Some public elementary and high schools have closed for summer vacation. They have been used as evacuation centers or their playgrounds have been occupied by piles of damaged household items such as furniture and electrical appliances.
It will take several months to restore all train services in the flood-damaged Chugoku region, according to West Japan Railway Co.
The disaster has also pushed the Japanese government to update its guidelines on evacuation orders and advisories. Evacuation orders were issued in some areas after rivers had already flooded, leaving local residents little time to flee and resulted in larger casualties.
caihong@chinadaily.com.cn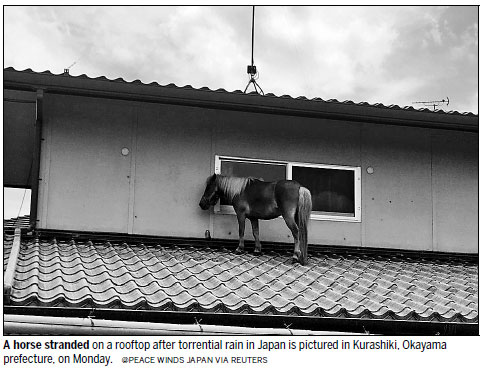 (China Daily 07/13/2018 page11)
Today's Top News
Editor's picks
Most Viewed