Lawmaker from Indian ruling party charged with rape
NEW DELHI - A lawmaker from India's ruling party was charged on Wednesday in connection with the rape of a teenage girl, a case that has embarrassed Prime Minister Narendra Modi's government amid a spate of sexual violence that has stirred street protests.
The Central Bureau of Investigation charged Kuldeep Singh Sengar with the 2017 rape of a 16-year-old girl, whose father was later beaten in custody, allegedly by Sengar's brother, and later died.
Sengar, who like his brother was not charged until the crime made national headlines, had smiled and bragged on television that he and his family would be proven innocent.
But CBI spokesman Abhishek Dayal said that Sengar had been formally charged with rape, criminal conspiracy and child sex offenses.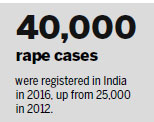 The victim accused Sengar of assaulting her in June last year at his home in Unnao district in Uttar Pradesh.
It was alleged that local police officers refused to take action when her family reported the rape.
Her father, who kept pursuing her case, was detained by police and severely beaten. He later died from his injuries.
In April, nearly a year after her assault, the girl tried to set herself on fire outside the home of Uttar Pradesh leader, and BJP stalwart, Yogi Adityanath.
The chief minister ordered an investigation into the crime and the case was handed over to federal investigators.
The CBI last week charged Sengar's brother, Atul Singh Sengar, and four others with the murder of the girl's father.
In a statement, the CBI said it had filed charges based on its inquiry into a complaint submitted by the teenager's mother alleging that her daughter, a minor, was taken to the lawmaker's residence by a local woman and raped there.
Sengar's lawyer, R.K. Singh, said in April his client was innocent and the case was a conspiracy to harm his political career.
The brutal rape in 2012 of a 23-year-old medical student, who died of her injuries, sparked nationwide outrage and forced changes in the law.
That horrific killing drew global attention and unleashed public anger in India about rampant sexual violence against women.
But six years later, there are few signs that such attacks on women are abating.
India registered about 40,000 rape cases in 2016, up from 25,000 in 2012. Rights activists say thousands more go unreported.
Campaigners though say the real number is higher, with victims wary of how their complaints will be dealt with or the social stigma attached to sex crimes.
Reuters - Afp
(China Daily 07/13/2018 page11)
Today's Top News
Editor's picks
Most Viewed