Social welfare key in developing, improving economic conditions
A mountainous county in Southwest China's Guizhou province has placed tourism development at the top of its agenda in recent years, launching a series of large-scale projects supported by government policies to increase social welfare in the area.
Earlier this year, Congjiang county poured 500 million yuan ($76 million) in investment into the development of several tourism projects, including the building of terraced fields in Jiabang township and scenic spots in Xiaohuang and Zhanli villages.
The county also added 50 tourist information signs along the Xiamen-Chengdu Expressway and main roads in popular tourist areas, and built new public service facilities, including six public toilets, a tourist service center in Jiabang and a parking lot in Basha village.
The local government has nurtured a group of rural cooperatives to combine tourism with local agriculture and ethnic culture. It now has about 86 such cooperatives, with nearly 14,000 impoverished residents from 3,440 households working there.
Congjiang has been listed as a protection site of Globally Important Agricultural Heritage Systems, an initiative run by the United Nations Food and Agriculture Organization, since 2011. People in Congjiang still keep fish and ducks in paddy fields, an ecological farming tradition which dates back hundreds of years.
In May, the Macao Special Administrative Region signed nine cooperation agreements with the Congjiang government, covering education, healthcare, tourism and labor services, in a bid to help the county to alleviate poverty.
According to the agreement related to tourism, routes from Macao to Congjiang will be developed in future, and the Macau Chinese Enterprises Association will take charge of organizing 2,000 tourists to visit Congjiang annually as well as to promote the county's agricultural products.
The county established a partnership with the tourism bureau of Xiaoshan district in the city of Hangzhou, Zhejiang province, to support each other in promoting tourism and organizing related personnel training.
The newly built Xiamen-Chengdu Expressway, which opened last October, has attracted more State-owned companies to invest in tourism projects in Congjiang.
An intangible cultural heritage park in Luanli village, for example, is under construction and scheduled to be completed before the opening of the 13th Guizhou Tourism Industry Development Conference in the county on July 16.
Tourists can experience and enjoy intangible cultural heritage items in the park, including farming and traditional medical treatment popular among local ethnic communities.
In 2017, Congjiang received 2.72 million visitors, an increase of 32 percent year-on-year, and generated 2 billion yuan in revenue from tourism, up 50 percent year-on-year.
The Congjiang government's efforts to develop rural tourism have benefited many local residents, most of whom have earned significant incomes by opening nongjiale, or farm homestays, where tourists eat locally produced food and experience a more rural lifestyle.
Jia Meilan, a woman of the Dong ethnic group from Xiaohuang village, now operates a homestay featuring food and Dong ethnic singing performances. From 2014 to 2017, Jia earned more than 200,000 yuan through the business.
The 36-year-old learned Grand Song singing from her parents and grandfather when she was a child, and became a famous singer in the village by the age of 10. The ethnic songs feature multipart singing performed without instrumental accompaniment and act as a channel for passing on the Dong culture from generation to generation.
haonan@chinadaily.com.cn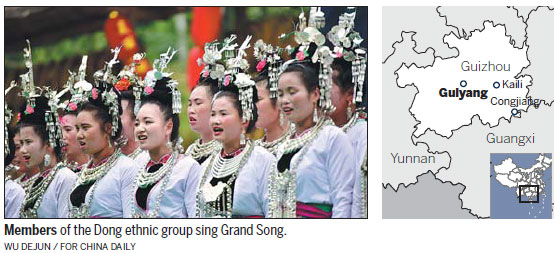 (China Daily 07/13/2018 page19)
Today's Top News
Editor's picks
Most Viewed