Congjiang county touts vast ethnic diversity
A county with rich ethnic culture and natural wonders, Congjiang in the southeast of Guizhou province provides tourists with a broad range of experiences.
Home to such ethnic groups as the Dong, Miao, Zhuang, Yao and Shui the county is a vibrant gallery of ethnic culture.
One of the area's renowned attractions is the "seven-star Dong village group", which includes the seven villages of Luanli, Yinliang, Pingqiu, Gaozeng, Bapa, Zhanli and Xiaohuang, all in the northeast of the county. Their collective name reflects their layout, which resembles the Big Dipper constellation.
Basha in the southwest of the county is a Miao ethnic village with an intact traditional culture. The locals revere the gods of the trees, rivers, mountains, sun and moon. The men carry knives and guns to hunt in the surrounding forests. They are called "the last hunters' tribe" in the country.
Congjiang is a hilly county, with mountains and hills accounting for the largest part of its land.
Farming is not easy there, but over hundreds of years locals have constructed terraced fields to solve the problem.
Jiabang village, at the heart of the Yueliang Mountains in the west of the county, is said to have the best terraced rice paddies in China. Extending some 25 kilometers, the terraced fields are a harmonious combination of human effort and natural beauty.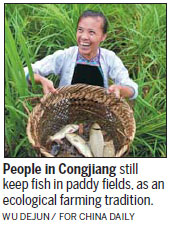 The farms present various pictures in different seasons: the silhouette of farmhouses in the foggy mornings of spring, reflections of clouds on the water in summer, golden rice grains in autumn and white snow in winter. The scenery changes with each season to make it a paradise for photographers and tourists alike.
Zengchong village in the northwest of the county is famous for Dong ethnic buildings, such as roofed bridges, drum towers and traditional houses.
The locals call the roofed bridges wind and rain bridges, as they of er protection from the wind and rain. The Zengchong Drum Tower is said to be the earliest Dong drum tower in China.
The county features typical karst landforms, with the Douliu River and other smaller streams weaving through the numerous beautiful mountains and caves.
The local authorities recommend three travel routes designed to enhance tourists' visits. The first is the Douliu River line, connecting a great number of ethnic villages. The second is the line circling the Yueliang Mountains, where terraced fields are the major attraction. The third is the line linking "the seven-star villages".
Congjiang is located in the southeast of Guizhou province, about 450 kilometers from Guiyang, 252 km from Kaili and about 280 km from the Guangxi Zhuang autonomous region cities of Guilin and Liuzhou.
(China Daily 07/13/2018 page19)
Today's Top News
Editor's picks
Most Viewed