Hainan set to spearhead intangible asset trading
Hainan, the island province in South China, is paving the way for the nation's securitization of intellectual property assets, with plans to make the first transaction of its kind no later than next June, according to the province's top IP officer.
"We expect that the IP securities trading agency in Hainan will make its first deal on IP assets by the end of this year, or no later than the first half of next year," Zhu Donghai, director of Hainan Intellectual Property Office, was quoted as saying by Legal Daily.
Lending partly or wholly against IP assets is a recent phenomenon even in developed countries, according to details on the World Intellectual Property Organization's website.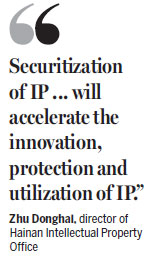 "Collateralizing commercial loans and bank financing by granting a security interest in IP is a growing practice, especially in the music business, among internet-based small and medium-sized enterprises, and in high technology sectors," said a report by WIPO.
According to the organization, securitization refers to the pooling of different financial assets and the issuance of new securities backed by the IP assets. These assets, in principle, can be any claims that have reasonably predictable cash flows, or even future receivables that are exclusive.
China started to support banks, securities firms, insurance companies and trust agencies in their push to participate in providing financial services for IP at the end of 2014, by issuing a plan to deepen the national strategic action in the area from 2014 to 2020.
In the plan, local Chinese governments are encouraged to set up credit-risk compensation funds to provide major support to loans for IP.
In April 2018, the central government authorized Hainan, which will be turned into a free-trade zone by 2020, to build an international off-shore IP innovation pilot zone. The government encouraged it to push forward the securitization of IP and improve credit guarantee mechanisms.
At the end of May, Haikou, capital city of Hainan, was picked by the State Intellectual Property Office, along with another seven districts and cities, to lead the country in mapping out a service system for the operation of IP, with a special focus on securitization.
As a result, Haikou is to receive 200 million yuan ($30.1 million) from central finances and another 200 to 400 million yuan in local finance to put into the establishment of the system, according to Zhu.
"Securitization of IP is definitely the core of our system, which will accelerate the innovation, protection and utilization of IP and realize the globalization of an IP operation system as a result," Zhu said.
chenhong@chinadaily.com.cn
(China Daily 07/12/2018 page17)
Today's Top News
Editor's picks
Most Viewed