Tourists must put safety first, not thrill
Editor's note: By Wednesday, the death toll in the twin-ferry tragedy off Phuket Island in Thailand had risen to 47. The two ferries were carrying Chinese tourists when they capsized in the rough sea on July 5. Two experts share their views with China Daily's Zhang Zhouxiang on how to ensure Chinese tourists' safety overseas. Excerpts follow:
Thai authorities can't shirk responsibility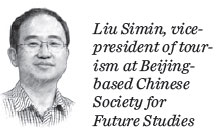 Some media outlets quoted Prawit Wongsuwan, deputy prime minister and defense minister of Thailand, as saying a Chinese national could be the owner of the travel agency "responsible" for the tragedy and provided inexpensive tourist services for Chinese groups. This is a provocative and irresponsible statement. And although he apologized on Tuesday for his remark, it's high time the Thai tourism and security authorities reflected on how to ensure the safety of tourists.

Today's Top News
Editor's picks
Most Viewed