Normal growth can help fight tariff war
Now that US President Donald Trump has actually launched a tariff war against China, some believe the US now considers China a "rival", rather than a "friend", because China abandoned its previous strategy of "keeping a low profile and hiding its brightness".
Irrespective of whether or not the strategy, set decades ago based on China's national strength and global environment at that time, applies to the present times, the fact is, for the past more than one decade the United States has identified China as a strategic competitor in its national security strategy report. Despite that China has made great efforts to improve relations with the US since Trump entered the White House, from President Xi Jinping's visit to the US to the signing of business deals worth $250 billion with the US during Trump's visit to China and Vice-Premier Liu He's trip to the US to help resolve the bilateral trade disputes.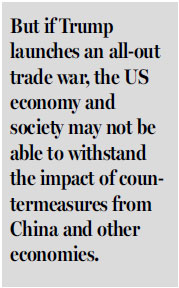 Actually, the ongoing Sino-US trade disputes reflect the attempts of the US as an established power to contain the rise of China as an emerging power. The US' China containment policy has changed over the past decades, and the tariff war shows it has entered a new stage with economic competition being the focus.

Today's Top News
Editor's picks
Most Viewed