On our Sina Weibo
Family protect precious birds in forest of dreams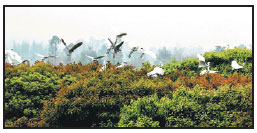 A family in Chengdu, Sichuan province, lives an idyllic life in the forest as they help protect thousands of herons. The father planted trees for 20 years and created a forest that then attracted thousands of herons. Consequently, he devoted his life to looking after the birds and protecting them from hunters. He decided to move the entire family into the forest to share the wonders of nature.
Example of true friendship of the human spirit
Li Yikui has developed a close friendship with Wang Zhen who has been a wheelchair user since he was a child. Both sat their senior high school entrance exam room in Hefeng, Hubei province, on June 22. Wang was diagnosed with Guillian-Barre Syndrome at just 6 months old. Li has been helping Wang since they met when they were 7. Both are now 16, and Li assists Wang in taking classes, getting food and going to the restroom. "Initially, it all started because I wanted to help, and then developed into a friendship. Now, he is part of the family," Li said.
Four tips to gradually become a morning person
According to TED, people who wake up earlier get more done, are more productive and lead happier lives. There are four key steps to become a morning person; first, the gradual method, which means you wake up 15 minutes earlier each morning until you hit the designated time; second, go to sleep earlier; third, do something immediately, like put the radio on or make a cup of tea. Fourth, and this is vitally important, do not go back to sleep after the alarm rings!
(China Daily 07/10/2018 page22)
Today's Top News
Editor's picks
Most Viewed