On chinadaily.com.cn
Video: What's a 'drama queen' in Chinese?
Do you have these sorts of friends? The world is their stage, and at any time they might turn melodramatic, provoking peals of laughter. Chinese netizens have created a unique nickname for these people - xijing, or drama queen. Know China, Learn Chinese - on our website explores Chinese culture, one word at a time.
Culture: TV actress recites popular poem
In the third episode of Poetry Moment, Ma Xiaoyuan, a young actress who plays Wang Xuan in the hit drama Moonshine and Valentine, will read a poem by Elizabeth Barrett Browning - How Do I Love Thee? She also shares behind-the-scenes stories of the hit drama and the interesting events between the cast and crew, and gives romantic advice to young people. Poetry Moment is an original short video series by our website, broadcast every Thursday. Stay tuned.
Rankings: Top districts for short-term rentals
The country's shared accommodation market has witnessed skyrocketing growth in recent years. According to the China Sharing Accommodation Development Report 2018 released by the State Information Center, the number of apartments used for short-term rentals was about 3 million last year, with 76 million people enjoying accommodations services provided by 2 million homeowners. The market transaction value was about 14.5 billion yuan ($2.23 billion), up 70.6 percent year-on-year. Visit our website to have a look at the 10 hottest districts for short-term rentals on Chinese vacation rental platform Xiaozhu.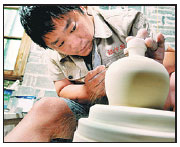 Heritage: Ceramics with the fire of tradition
Feng Zuchuan, a national Chai kiln intangible cultural heritage inheritor who lived in Jingdezhen, Jiangxi province, brought his skills to his hometown - Poyang county, Jiangxi. "Chai" means wood. Chai kiln is the process of making ceramics by firing wood. Today, amid quicker coal and gas kilns, the Chai kiln lost its appeal, To reignite the embers of popularity, Feng Shanghui, son of Feng Zuchuan, decided to dedicate his life to rejuvenating the skill, building a Chai kiln in Poyang county and named it after his father - the Zuchuan Kiln.
People: ALS patient teaches children for free
Jiang Bing, who has Lou Gehrig's disease (also known as ALS), has lived life to the full for more than 30 years by giving to his community. He has been tutoring students for free for more than two decades. Between 1995 and 2017, Jiang helped more than 200 students. A native of Weinan, Shaanxi province, Jiang had difficulty walking when he was 16, in 1985. He was then diagnosed with the condition. In early May 2005, Jiang started to use a wheelchair, but his spirit was unquenchable and he continued to help students.
(China Daily 07/10/2018 page22)
Today's Top News
Editor's picks
Most Viewed