Trump faces 'carnival of protest' in Britain
EDINBURGH/LONDON - A barrage of nationwide protests will greet US President Donald Trump's four-day trip to Britain from Thursday, with organizers hoping to stage one of the country's biggest demonstrations in decades following a series of diplomatic spats.
The divisive US leader, arriving after a NATO summit in Brussels, will be largely away from London during a tour expected to bring at least tens of thousands of people onto British streets.
"We are confident that there will be huge demonstrations against Trump wherever he visits," said Chris Nineham, of the Stop the War Coalition, which is helping to stage the so-called "carnival of protest".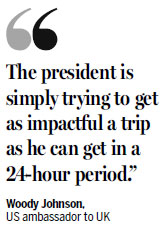 "The protest will be a real celebration of the diversity that we love in the UK - and will give a strong signal that his message of hate and division is not welcome in this country."
Meanwhile, European activists protested on Saturday against Trump's upcoming appearance at NATO, marching through Belgium's capital to plead for less military spending and more public money for schools and clean energy.
The "Trump Not Welcome" march and a companion concert came after Trump accused NATO allies of not doing enough to defend themselves and is demanding that they increase their military budgets.
The protest organizers oppose more military spending and attracted a high-spirited, diverse crowd of thousands that wended through central Brussels while demonstrating on behalf of multiple causes during the peaceful march.
The US president also appears unpopular in Britain, where his brash style and hardline "America First" policies have caused consternation across the political spectrum and society.
He was severely criticized last November, including by Prime Minister Theresa May, after sharing three inflammatory anti-Muslim videos posted by far-right group Britain First.
Opposition lawmakers, backed by an online petition signed by nearly 1.9 million people, called on May to cancel the state visit offered when she met Trump in Washington after his inauguration last year.
Following the incident and several other diplomatic spats, his first trip to Britain since taking power was repeatedly delayed, with speculation it has now been designed to avoid the demonstrations.
The US ambassador in London told reporters on Friday that Trump was "aware" of the planned protests but "is not avoiding anything".
"The president is simply trying to get as impactful a trip as he can get in a 24-hour period," Woody Johnson said.
Afp - Ap
(China Daily 07/09/2018 page11)
Today's Top News
Editor's picks
Most Viewed