Putin congratulates Turkey's Erdogan on election victory
Russian President Vladimir Putin congratulated Recep Tayyip Erdogan on Monday after the Turkish president secured sweeping new executive powers in presidential and parliamentary elections.
In a phone conversation, Putin "stressed that the results of the vote fully speak of Erdogan's great political authority (and) mass support of the course conducted under his leadership to solve Turkey's pressing social and economic tasks (and) strengthen the country's position on the international arena", the Kremlin said in a statement.
The two leaders confirmed mutual interest in boosting partnership between their countries, the statement said.
Putin and Erdogan also agreed to maintain close cooperation over the Syria conflict.
The Kremlin said earlier that Putin had sent a telegram to Erdogan to congratulate him and the ruling Justice and Development Party, or AKP.
A night of triumph for Erdogan saw the man who has governed Turkey for the last 15 years declared the winner of Sunday's presidential poll without needing a second round and take his ruling party-led alliance to an overall majority in parliament.
The president, 64, declared victory in Istanbul before returning to Ankara to deliver a triumphant speech at 3 am to tens of thousands of supporters from the balcony of the headquarters of his party.
French President Emmanuel Macron has also congratulated Erdogan, Macron's office said on Tuesday.
"The French president has congratulated Recep Tayyip Erdogan and wished the Turkish people success in the economic and social development of their country and in the democratic functioning of their institutions," an Elysee Palace source said.
Chinese Foreign Ministry spokesman Geng Shuang said on Monday that Beijing congratulates Erdogan and "respects the choice made by the Turkish people".
Others congratulating Erdogan included German Chancellor Angela Merkel, Iranian President Hassan Rouhani, Venezuelan President Nicolas Maduro and Hungary's Prime Minister Viktor Orban.
Ren Qi in Moscow, AP and AFP contributed to this story.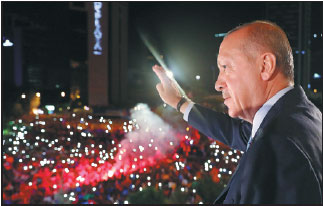 Turkish President Recep Tayyip Erdogan greets his supporters from the balcony of the ruling party headquarters in Ankara, Turkey, on Monday.Kayhan Ozer / Presidential Palace Via Reuters
(China Daily 06/27/2018 page12)
Today's Top News
Editor's picks
Most Viewed