A US-China trade war will harm the world
A lot has happened since the United States announced additional tariffs on Chinese imports and subsequent retaliatory tariff announcements by China. President Xi Jinping and US President Donald Trump have separately met with the Democratic People's Republic of Korea's top leader Kim Jong-un. US officials have traveled to China to discuss trade issues with their Chinese counterparts, and Chinese officials have visited the US to persuade Trump to make a deal to help Chinese technology company ZTE Corporation, but the US Congress blocked it.
With all this back and forth, changing rhetoric, multiple high-level meetings, and other regional issues such as the DPRK taking away the focus from the China-US trade dispute, observers were left with a lot of uncertainty about whether the tariffs would, in fact, be enacted.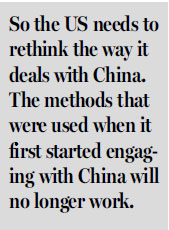 The Trump administration recently announced it would move forward with the proposed tariffs on $50 billion worth of Chinese goods on July 6. As promised, China immediately retaliated with its own tariffs on US goods. Since that initial exchange, Trump has called for additional tariffs on $200 billion worth of Chinese imports, saying he is willing to raise the figure to as high as $450 billion.

Today's Top News
Editor's picks
Most Viewed