Scrapping of rail project may hurt Malaysia
Soon after being elected Malaysia's prime minister, Mahathir Mohamad cancelled the $17 billion high-speed rail project linking the Malaysian capital of Kuala Lumpur and Singapore.
Mahathir had reasons to make the surprising decision. According to the Malaysian Finance Ministry, at the end of last year the government's debt and liabilities had reached nearly 1.09 trillion Malaysian ringgit ($251.74 billion), accounting for about 80 percent of the country's GDP. It is natural therefore that Mahathir would accord top priority to reducing debt. But he also chose to re-evaluate and reduce the costs of infrastructure projects that were signed by the previous government.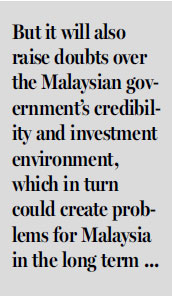 Since Malaysia would not benefit much from the costly Kuala Lumpur-Singapore high-speed railway, he said, he preferred to pay compensation of about $126 million to pull Malaysia out of the project. It will also cut almost a fifth of the country's debt and liabilities, he said.

Today's Top News
Editor's picks
Most Viewed