Trade conflict will redefine US-EU ties
At the just-concluded G7 Summit in Charlevoix, Canada, US President Donald Trump threatened to "stop trading" with some of the US' closest allies unless they change what he believes to be unfair trade policies. This once again shows the United States and its allies, especially the European Union, are facing a severe test.
On June 1, the US imposed steep tariffs of 25 percent on steel and 10 percent on aluminum imports from three of its biggest trading partners, including the EU. In an immediate response, the EU announced additional tariffs on about $7 billion worth of US products, leading the allies closer to a trade war.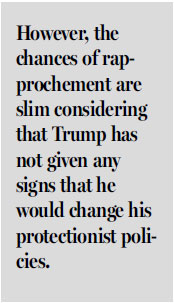 Since 22 of the EU's 28 member states are also the US' security allies in the North Atlantic Treaty Organization, the EU expected permanent exemption from the indiscriminate tariffs Trump imposed on steel and aluminum imports in March claiming they threatened "US national security". And when the EU published a list of possible retaliatory moves against the US, French President Emmanuel Macron and German Chancellor Angela Merkel separately met with Trump in the hope of pre-empting a trade war. But the EU was disappointed with the one-month exemption the US offered.

Today's Top News
Editor's picks
Most Viewed