Report details improvements in China's marine environment
In general, China's marine ecology was ranked "good" last year, but offshore waters are still threatened by acute environmental problems, according to a report released on March 19 by the State Oceanic Administration.
The administration noted that the quality of seawater had improved overall, and marine biodiversity had remained stable.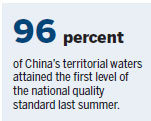 During the summer season, 96 percent of China's territorial waters attained the first level of the government's quality standard for seawater - signaling the third successive year the standard had improved - while the area where the quality was designated as "poor" shrank by 3,700 square kilometers.

Today's Top News
Editor's picks
Most Viewed