Tibet resettling nomads from harsh, high plateau areas
Siyo Tsenga was pleased to see that his new home was near a medical clinic, after being relocated to a new settlement in Tibet's Doilungdechen district in Lhasa.
Siyo Tsenga is a Tibetan nomad from the region's Nyima county, where the average altitude is nearly 5,000 meters above sea level, making living there a challenge.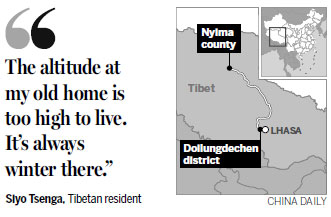 Thanks to the region's ecological relocation policy, which started in 2016, his family was one of 262 households from his hometown to move to Doilungdechen, about 1,200 kilometers from Nyima.

Today's Top News
Editor's picks
Most Viewed