City's government to promote health, medical industries
The government of Yunnan recently vowed to help the provincial capital Kunming to accelerate development of its big health industry demonstration zone, encouraging the city to seek international influence in the medical treatment and health industries.
The State Council, China's Cabinet, approved the construction of the demonstration zone in Kunming in May 2017. The project will be one of the three national-level demonstration zones of its kind.
Soon after receiving State Council approval, the Kunming government unveiled its big health industry development plan, proposing to transform the city into a hub for bio-science innovation, health product manufacturing, healthy living, sports played at high altitudes, ethnic health culture and high-end medical services.

The city government said it will take advantage of existing rich local plant resources, as well as its medical care and pharmaceutical industrial foundations and research institutes, to help Yunnan's bio-medicine and health industries to make great strides forward.
A delegation of the Kunming government organized"2018 Week of Kunming Overseas" in Liverpool, the United Kingdom, from Tuesday to June 19, mainly introducing the city's big health development and related projects.
The overall output value of the biomedicine industry in the city hit more than 28 billion yuan ($4.37 billion) last year, accounting for 8.5 percent of the total industrial output of Kunming.
Home to 55.4 percent of China's medicinal plants, Yunnan, known for its biodiversity, boasts plants ranging across tropical, sub-tropical, temperate and cold zones.
Wang Xiliang, Kunming mayor, said that the rich plant resources are being used in many new products and industries, and the hosts of institutes affiliated to the Chinese Academy of Sciences and the Chinese Academy of Medical Sciences in Kunming have provided the city with huge development space for its health industries.
In March last year, the central authorities approved plans to build a national botanical museum in Kunming, demonstrating Yunnan's strength and position as a botanical treasure trove of national importance.
Cheng Lianyuan, Party chief of Kunming, pledged that the facility will become a world-class large-scale botanical museum.
Cheng said the construction of the botanical museum and demonstration zone provides Kunming with golden opportunities to develop relevant industries and cultures, and to become a true "health city of China".
Thanks to its natural and habitable environment, the average life expectancy of Kunming residents was 78.96 years in 2017, above the national average of 76.5 years. The premature death rate from chronic diseases is 12.44 percent among locals, markedly lower than the national average of 19.1 percent.
Kunming has implemented a series of supportive policies to attract investment and projects related to the big health industries from around the world to its demonstration zone.
The government said it will continue to make good use of the annual Kunming International Health Summit as a platform to raise public health awareness and to publicize Kunming as a "health city of China".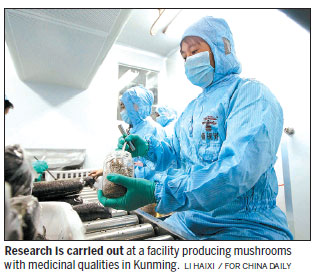 (China Daily 06/13/2018 page10)
Today's Top News
Editor's picks
Most Viewed