Infrastructure connecting region to countries throughout southern Asia
Provincial capital Kunming is being transformed into the central transportation and communications hub of Yunnan, as it constructs an advanced network to connect with Southeast Asia and South Asia.
The network consists of roads, air corridors, oil and gas pipelines, river courses and internet infrastructure. Its construction will lay a solid foundation for Kunming to become a hub of the triangle region connecting Southwest China, Southeast Asia and South Asia.
The city government said it has invested 10.89 billion yuan ($1.7 billion) on the construction of the network in the first quarter of this year, which has accelerated the progress of the project.
Last year, Kunming spent 78.74 billion yuan building highways, up 24.5 percent year-on-year. The Wuding-Yimen Highway, Huangtupo-Majinpu Highway, Jinnin-Hongta Highway and Songming-Kunming Highway were also finished and opened to traffic in 2017.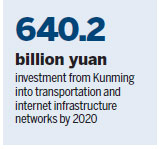 This year, the city will continue the construction of 10 highways stretching 412.57 kilometers.
Kunming plans to invest more than 540 billion yuan on 159 road projects by 2020. After these roads are finished, they will make it more convenient for self-driving tourists to visit Southeast Asia and South Asia from Kunming, which is expected to boost economic growth, consumption and tourism development in the regions along these roads.
Kunming is now connected with Hanoi, capital of Vietnam by highway. And the Kunming-Vientiane-Bangkok Road and the road from Kunming to Myanmar are being upgraded to highways.
By August, when the No 3 line of Kunming's subway opened, the city will have a total length of 88.76 kilometers of subway in operation, handling 470,000 passengers a day on average. The subway network connects Kunming's downtown area with its airport, high-speed railway station and four major bus passenger terminals.
The first anniversary of the extension of the high-speed train services to Kunming fell on Dec 28 last year. The city is now connected by high-speed trains with Chengdu, Sichuan province, and Chongqing. The Kunming High-speed Railway Station handled 12.02 million passenger trips in the first year of its operation.
Yunnan is constructing railways connecting Kunming with Vietnam, Laos, Myanmar and India, and the neighboring provinces and regions in China. These railways will necessarily strengthen people-to-people exchanges and enhance Kunming's position in the Belt and Road Initiative.
It is estimated that the Changshui Airport of Kunming will handle 50 million passenger trips this year. Last year, it was recognized by the Civil Aviation Administration of China as an international hub airport.
By the end of March, the airport had 299 air routes - 51 of them to international destinations - and operated 235 flights a week to 36 airports in Southeast Asia and South Asia, making it the airport in China with the most flights to those regions.
Kunming plans to invest 1.46 billion yuan this year on 14 projects related to internet and telecommunication, with the goal of fully connecting the city with international communications passageways.
In the first quarter, Kunming invested 958 million yuan on nine energy pipeline projects, worth a total investment value of 57.58 billion yuan.
Kunming government officials also say the city will invest a total of 640.2 billion yuan on 317 projects related to transportation and internet infrastructure networks by 2020.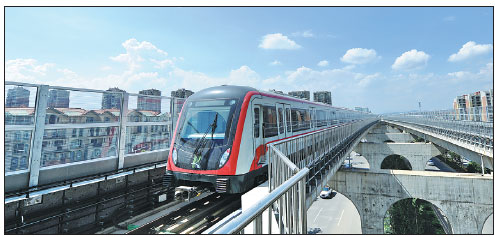 Kunming's Metro trains now handle 470,000 passengers a day, on average. The city is constructing a communication and transportation network to connect Southeast Asia and South Asia.
(China Daily 06/13/2018 page10)
Today's Top News
Editor's picks
Most Viewed