Star Mall's recipe for success: Focus on customers and hard work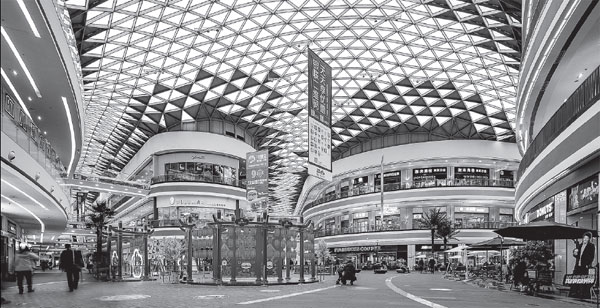 Star Mall Shenyang Plaza has developed from a community shopping center to a landmark mall in recent years. Photos Provided to China Daily
Star Mall Group is the joint venture of Turkish conglomerate Fiba Group and the State General Reserve Fund of Oman. Opened in 2014, Star Mall Shenyang Plaza is the company's first project in China. Group CEO Bulent Ulusoy in an interview discusses Star Mall's advantages and how it is facing the new, highly competitive business environment.
Recently, Shenyang's economic growth has not been as fast as people expected. Has this impacted Star Mall?
Although Shenyang's economy did not go well, we consider ourselves lucky for being able to increase our sales and the number of visitors in such an environment. However, I do not believe that luck is something coming from the skies without an effort; instead, it originates from hard work, experience and creativity.
The main issue with a recession-hit economy is the decreasing disposable income for companies like Star Mall. To overcome this, we have found innovative and new solutions to adapt ourselves to the new economic environment, rather than copying our successful experiences in the past.
For example, we redesigned our marketing activities and tenant mix according to this new reality. To survive in all kinds of environments, it is a must for companies to be fast, dynamic and adaptable. This is exactly what we did and will do for the future.
The region has attracted more residential buildings and commercial complexes since Star Mall opened in 2014. What effect has this had on your operations?
More and more residential buildings mean more and more people, which is vital for our business. Star Mall attracts people not only from its surrounding areas, but also from a wider geography, which makes it a regional life center.
Together with our unique and attractive tenants, our neighbor IKEA also plays a big role in this fact. This reality and our aggressive operations make us immune to the economic fluctuations and rising competition.
But above all, how you approach the customers, in my opinion, plays the most important role. For us, the customer is king. Many people, many companies say this, but by rote. We really apply it to our daily operations. It starts from the very beginning with our mall's design. We made a shopping mall here by considering the comfort of our customers.
We built very high ceilings in comparison to many other malls, to allow people to breathe, to make them feel like they are walking in the street. We have one of the biggest skylights in China to bring people light. We have allocated a huge area for common use. We have preferred to provide a comfortable space for our customers, instead of using these areas as income-creating space. We never forget our responsibility to society.
But one more thing. You have to be adaptable to the changing conditions; we have the reality of the evolution in every sense and this is also valid for business. Star Mall right now is not the same Star Mall that existed five years ago.
We have changed many things. For example, online shopping is the increasing trend nowadays. Instead of trying to fight it, we have to find ways to live with it. This is called adaptation. And, this is what we have done throughout the years.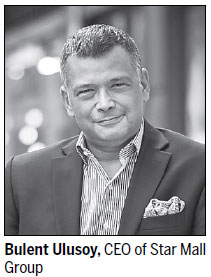 When you put all of these ingredients into one bowl, you have the recipe for success.
Trends are changing: smart phones, online payment systems and online shopping are growing fast. How does that affect the retail sector? Do you think shopping malls can survive against this online shopping trend?
I do not think that online shopping will kill conventional retail. Instead, I believe, with the participation of online shopping, the total industry will grow further and both conventional and online retail will have certain shares of it.
Star Mall is continuously taking actions to adapt itself to the changing, new business environment. It is a fact that online shopping is convenient; however, customers want to feel products before buying them in many cases. As a consequence of this, physical stores are still playing a great role in retail, but in a different way than before.
In today's dynamic environment, it is obvious that many retailers do not need big spaces as they did five years ago. Together with our tenants, this is one of the developments we have adapted to in the new business trends.
As one example, until the end of 2017, our hypermarket covered an area of 24,000 square meters, which will be decreased to 9,000 sq m at the end of this year. We applied this size reduction to most of the tenants heavily influenced by online shopping.
Considering that we have a 96 percent occupancy rate, this size reduction gives us another opportunity to respond to the high demands of new tenants, and helps us to become better protected from the rise of online shopping.
Another tool we are using to protect our tenants is to organize more quality events and marketing activities that cannot be replaced by online shopping. Together with this we also put a big emphasize on food and beverages and entertainment, in both our events and our selection of tenants. Unlike many other shopping malls, Star Mall is a life center; it is a small version of a living city, which makes us different.
Consequently, as we have already done, shopping centers will have to convert to life centers to survive, but as long as human beings live on this earth, physical stores will always have a market share and online shopping will never have 100 percent. We are living during a transformation phase, right in the middle of the evolution.
Star Mall has received four platinum awards, three gold awards and two honorable mentions in the Hermes Creative Awards this year. How did you achieve this success?
We participated in the competition for the first time and presented nine projects in different categories which were all recognized. The hard and creative work of my colleagues and business partners made us the only award winner from China in commercial real estate in 2018. We will go ahead and focus on the needs of our customers by thinking from their perspectives.
You have been in China for 18 years and before joining Star Mall, you worked as a general manager in Hangzhou and Shanghai. Unlike many foreigners working in China, you've been in both the north and the south. Do you have some suggestions that you can share with new investors or professional managers in China?
Before coming to China, I worked six years in Germany and on top of that 18 years in China, which gave me the opportunity of seeing the differences between the two ends of the business.
Obviously, there are lots of experiences I collected during these years. But to mention a few of the lessons learned, I want to emphasize the importance of mobility and adaptability.
If somebody wants to do real business in China, it should not be forgotten that China is one of the most important global markets. Diligence in terms of mobility, adaptability to different cultures and to their way of doing business is the pathway to success. Different cities may greatly differ in culture.
When you arrive in a new and unfamiliar environment, your previous experience and manners of doing business may not apply.
So foreigners who intend to work in China need to adapt themselves to the circumstances and cultures in different regions of China. If you treat these with patience, China is the best environment for doing business in the world.
As expatriates, we should always remember the bridging role we play between our headquarter's country and the country we work in.
This is a bridge which has toll collectors at both ends. Both toll collectors have their own culture, their own experiences and traditions.
Our job is to translate one culture to the other in a smooth way, so that you do not have any obstacles from any of the sides in order to improve your business.
(China Daily 06/13/2018 page14)
Today's Top News
Editor's picks
Most Viewed