China bets big on future development of blockchain
Blockchain, an emerging computer technology, is forecast to be widely applied in the real economy in the next three years, playing a crucial role in China's digital community, according to a recent report.
The 2018 White Paper on China's Blockchain Industry, which was released by the information center at the Ministry of Industry and Information Technology in Beijing on Sunday, noted the revolutionary technology is expected to spur global innovation in technology and business modes.
Data from the World Intellectual Property Organization show that China was the largest blockchain patent filer in the world in 2017, with more than half of the global total coming from the country.
China contributed 225 international patent applications concerning blockchain last year, followed by the United States with 91 filings and Australia, 13.
Of top patent filers in the field worldwide by corporation, internet giant Alibaba Group ranked No 1, with 43 applications.
Promoting the use of blockchain technology requires a sound legal environment and needs fertile ground for technological progress, economist Wang Xuezong told Securities Daily.
As the development of blockchain is fast-tracked in China, it is attracting an influx of investors and budding entrepreneurs.
About 41 percent of startups that secured investment in China in the first quarter of last year were involved in the sector and a growing number of startup companies worth more than $1 billion have adopted the technology to diversify their businesses, according to WIPO data.
The MITT report shows that 456 companies in China had developed blockchain as their major business by the end of March, with 71 percent of them located in Beijing, Shanghai and Shenzhen.
Of these, 175 are in Beijing, 95 in Shanghai and 56 in Shenzhen.
From national strategies to local policies, the government has increased support for blockchain-related projects, which has drawn increasing capital to the sector and created development space, industrial observers said.
The administrative committee of Zhongguancun Science Park in Beijing issued a policy on the integration of financial services and tech innovation in April 2018 to encourage the use of frontier technologies, such as artificial intelligence and blockchain.
The authorities will grant projects in the sectors up to 5 million yuan ($778,600) each in financial support.
Guangzhou, capital of Guangdong province, rolled out its first favorable policy on blockchain at the end of last year, adding some 200 million yuan to its annual government budget.
The economic, trade and information commission of Shenzhen announced in March that blockchain is among the sectors that receive priority support from the local government, with related projects eligible for up to 2 million yuan each in government aid.
Another report, which is concerned about analysis of new business modes and investment opportunities created by blockchain, showed that blockchain generated 290 billion yuan in business revenue last year, surging more than 163.6 percent from a year earlier.
The report, released by the Qianzhan Institute for Industrial Research forecast that the annual revenue is projected to increase to 810 million yuan this year and that the growth rate will rise to 179 percent.
Blockchain's central hallmark is that of decentralization. Data can be shared among a distributed network of computers with no need for middlemen. Once recorded in a blockchain-based ledger, data can't be altered.
Currently, the technology can be used in trade, finance, medical records and digital identification, due to its high transparency, convenience and safety, report said.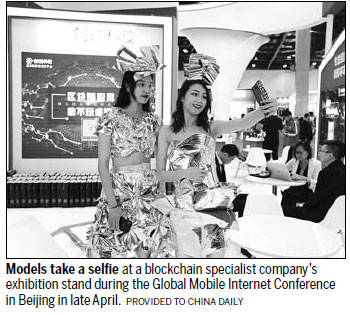 (China Daily 05/31/2018 page17)
Today's Top News
Editor's picks
Most Viewed