Designing for the future, today
In the eyes of Liu Lidan, partner at designaffairs China, good design should lead the relationship between humans and technology rather than the other way round, because that relationship drives social changes and future trends.
"Over the past decades, China has developed and changed so fast, we cannot define products in a traditional way," Liu said. "Chinese companies have become increasingly aware of the importance of design while seeking competitive advantage through innovation.
And what we do is to help companies to make the best decisions for the next product generations in times of strong and unpredictable change."
With this approach, designaffairs has created a variety of successful business cases by making technology useful across different cultures and markets.
The consultancy has designed award-winning headphones for FIIL and Sennheiser, refreshed the design languages of Haier, Midea and Grundig, created iconic in-car experiences for Audi and WEY, and designed cloud services for Huawei and BMW.
One of the world's leading strategic design consultancies, designaffairs was founded in 1960.
It was the former design department of Siemens Group, and became an independent company in 2007. By integrating research, design thinking and brand strategy, it works to create realizable product designs with innovative user-centered approaches.
In addition to locations in Munich, Erlangen and Portland, the design agency established its Shanghai office in 2011 to expand its presence in the Chinese market.
From sports cars to coffee machines, from small headphones to huge high-speed trains, from medical CT scans to purely digital platforms, designaffairs has a long record of designing the future for fast-changing industries.
The team of designaffairs China has won more than 60 major international design awards including the iF Award, Red Dot Award, Good Design Awards (Chicago) and Plus X Award.
"Some people may think design is about a product's appearance. But it's about how the product works. What makes us unique is our ability to develop holistic user experiences.
We support our international clients from the initial product and service idea up to the market launch. Our user experience methods and tools allow clients to have better understanding of their customers, and help them develop strategies to adapt to the market," said Moritz Ludwig, managing director of designaffairs China.
For example, designaffairs helped leading automotive brand Hyundai to develop a unique interaction between driver and car. Through a variety of experience prototypes, the creatives at designaffairs explored new interaction patterns to bridge the gap between the physical and digital dimensions of mobility.
The team employed state-of-the-art rapid prototyping technologies to create functional models with touch-sensitive surfaces. Going beyond the traditional flat touch pad, they experimented with a range of rounded, facetted, elliptic and concave forms to identify the most intuitive interaction.
After testing various approaches with users, the designers came up with a touch bowl that allows drivers to swiftly navigate the increasingly complex digital elements of modern cars.
Through gestures that have a very natural feel, this revolutionary interaction reduces driver distraction.
Presented at the IAA in Frankfurt, this new interaction created such a big impact that Hyundai is planning to use this combination of hardware and digital interface as a signature experience for all its premium cars.
In China, a growing number of manufacturers are seeking unique solutions conveying to their customers that the future is already here. This has led to greater market sophistication and raised consumer expectations of what a product can offer. Companies are being challenged to keep up with the ever-evolving demands of their customers.
"China now is probably the best place to be a designer. We can design in a human-centered way, and our solutions are much less predefined by manufacturing constraints," Ludwig said. "We want to create value that can be sustainably maintained in the relationship between companies and the marketplace."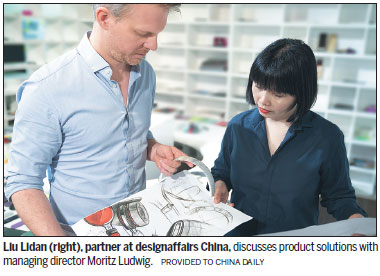 (China Daily 05/25/2018 page6)
Today's Top News
Editor's picks
Most Viewed