Chinese customers driving growth in connected cars
The growing demands of Chinese customers for greater connectivity has driven automakers to carry out upgrades on their Chinese models ahead of the rest of the world's major car markets.
Customers in China place a stronger emphasis on in-car connectivity and internet access than in many other markets, according to research.
More than 41 million people in China will make use of in-car connectivity by 2021, according to professional services consultancy Accenture China, who also predict the value of the overall car market in the country to rise to 401 billion yuan ($62.95 billion) by that time.
Currently, 11.6 million cars on Chinese roads feature online connectivity, accounting for 10.6 percent of the market, according to a survey carried out by Accenture.
The survey also found that 30 percent of respondents regard connectivity as one of the top five considerations when buying a new car.
In reaction to Chinese customer demand many global manufacturers have increased connectivity across the range of their latest models.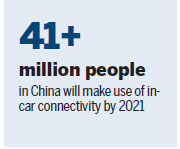 The Renault-Nissan-Mitsubishi Alliance has announced that by the end of 2022 all of their new vehicles in China will feature its Alliance Connected Cloud.
The cloud will allow for all alliance companies, including Renault, Nissan, Mitsubishi and Infiniti, to integrate data management of their new models and those already on the road, according to Jonathan Adashek, Renault-Nissan-Mitsubishi Alliance's global vice-president of communications.
"The customer experience will be among the critical factors for the future electric vehicle products, and the alliance will strengthen the emotional connection with the users," Adashek said.
German premium automaker BMW shares the same vision on the importance of connectivity, and is also upgrading all its offerings in the Chinese market.
"It is important for Chinese customers to have connectivity and those type of things, for navigation, for personal mobile phone, and digital life and work in the car," said Harald Krueger, chairman of the board of management of BMW AG.
The brand's Chinese joint venture, BMW Brilliance Automotive, is offering connectivity functions, including wireless cellphone connection, Apple CarPlay and Android Auto, as standard on its latest BMW X3 sport utility vehicle model which launched in April.
Johann Wieland, president and CEO of BMW Brilliance, said, "We found customers nowhere else in the world give as much importance to connectivity than in China."
Another survey carried out by Roland Berger and Tencent in August 2017, found that the majority of Chinese auto customers also want one or more big screen display in their vehicles.
The survey found that besides rest, passengers in vehicles also like to spend time reading, using entertainment systems, working and shopping online.
Ye Liang, Shanghai-based principal of Roland Berger, said that connectivity is among the four inevitable trends for the future, including automation, electrification, and shared mobility.
Ye said, "Connectivity is the foundation of automation and sharing, so it is a must-have for auto manufacturers, more than just meeting user expectations."
Swedish premium auto maker, Volvo Cars, was one of the first manufacturers to seek to capitalize of in-car connectivity, launching its first generation Sensus Connected Touch system in March 2013.
Hakan Samuelsson, president and CEO of Volvo, said the company has been continuously working on modern technologies that integrate connectivity, infotainment and automated driving.
Besides equipping connectivity on Volvo vehicles, the system will also be applied on the vehicles of Sino-Swedish car maker, Lync & Co, a company established by Geely Holding, Geely Automobile and Volvo Cars in 2017 to produce digital and permanently connected vehicles.
haoyan@chinadaily.com.cn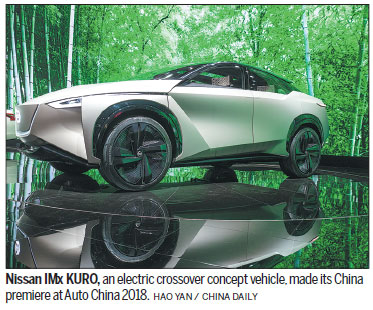 (China Daily 05/21/2018 page18)
Today's Top News
Editor's picks
Most Viewed