Unicorns set to flourish in new economy haven, add dynamics to growth
Chengdu is taking the lead in providing incentives to foster the growth of the new economy, officials and business chiefs said, and its efforts are paying dividends in the achievements of its local unicorn companies.
A unicorn is a startup company valued at over $1 billion and the term new economy refers to the trend toward the convergence of manufacturing, services and technologies to make high value-added, technology-enabled and adaptable industries.
In March, Chengdu Xinchao Media Group, a startup company specializing in intelligent advertising, with a valuation of $1.5 billion, was put on the 2017 unicorn list, which was compiled by the Torch High Technology Industry Development Center at the Ministry of Science and Technology and Greatwall Strategy Consultants, a consulting institute headquartered in Beijing.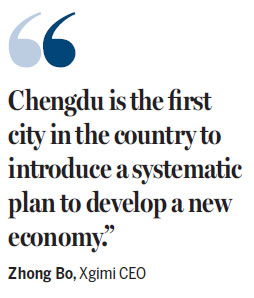 In addition, business magazine The Founder that same month released its 2018 list of the top 100 Chinese unicorns. Another local company - intelligent projector manufacturer Chengdu Xgimi Technology - was included on the list.
Xgimi's star product is its no-screen TV, a smart LED home theater projector boasting high-quality images and sound effects, which has been met with extraordinary success in the marketplace.
Annual sales of the product have surged since its launch four years ago from about 70 million yuan ($10.76 million) to 1.3 billion yuan in 2017.
The company announced in March that it had received total investments topping 600 million yuan from investors including Baidu Inc and Matrix Partners China. That development showcased the powerful growth of Chengdu companies engaged in the new economy.
"Chengdu is the first city in the country to introduce a systematic plan to develop a new economy," said Xgimi founder and CEO Zhong Bo. "We can see that the local government has been making great efforts to foster the new economy and cultivate a new driving force in economic growth, as well as supporting enterprises like us."
"In addition, Chengdu has released a series of policies to attract professionals, which has laid the foundation for the incubation of unicorn companies," Zhong added. "I believe that with the government's support, it won't take long to see a larger number of unicorn companies mushrooming in Chengdu."
Wang Shirui, founder and CEO of Medlinker, a Chinese social networking and referral mobile app for doctors that is headquartered in Chengdu, is positive about the dynamic city's future development.
"Chengdu does have a lot of obvious advantages in developing the new economy," Wang said.
Introducing new technologies, including big data and artificial intelligence to the online platform - and partnering with medical institutes, medical equipment manufacturers and insurers - Medlinker provides tailor-made services to physicians and surgeons.
By the end of last year, Medlinker had worked with more than 5,000 medical institutes. The number of doctors using the app topped 430,000, with 15,000 of them registered users.
Medlinker has grown in worth to nearly 5 billion yuan in three years, and has been listed by the Greatwall Strategy Consultants as a "potential unicorn".
Another startup in Chengdu, Borns Robot, specializes in medical robotics research.
Li Yao, a scientist from the Stanford Artificial Intelligence Laboratory, co-founded the company.
Li said his company has developed surgical robots capable of minimally invasive surgery and completed animal tests. Its latest product is expected to be launched in 2019.
"My dream is to help doctors," he said. "I wish to use AI and robots to improve minimally invasive surgery, help more doctors and benefit more patients."
Chengdu's well-established industrial foundation for the biopharma sector, and the local government's resolution to support the growth of the medical equipment industry, prompted his decision to found the company in the city, Li said.
Borns Robot has attracted international experts in the field, including its another founder William Levine, a fellow of the Institute of Electrical and Electronics Engineers in the United States. The leading expert on control systems said he loves Chengdu and has begun learning Mandarin.
Last year, more than 33,000 businesses engaged in the new economy were set up in Chengdu, a year-on-year increase of 57.9 percent, and 20,000 high-tech companies started up in business.
Chengdu is the first city to have established a new economic development committee and founded a business club for the new economy in China. It has initiated two programs to add "new dynamics" to the growth of the local economy by fostering leading businesses and professionals.
One of the programs is to foster 100 companies and 100 experts in the new economy, aimed at creating fertile ground for the development of the new economy. The lists of businesses and professionals for 2018 were announced earlier this month.
The other program focuses on helping top companies involved in the new economy, with high growth and enormous potential, to accelerate their development.
The companies included in the plan are categorized by their growth stages, ranging from concerns at the early level to quasi-unicorns and unicorns or industrial leaders.
Officials at the city's new economy commission told Chinese media that Chengdu was bolstering the new economy, by attracting innovation resources and improving services to draw professionals and capital to the sector. They will encourage the establishment of an angel investment fund, dedicated to developing the new economy, as well as the founding of capital firms in a bid to help unicorn companies get listed.
According to the city government, in line with the development goals of Chengdu's new economy, the number of local new economy companies is expected to reach 100,000 by 2022, with at least seven unicorns and 60 companies with potential to become unicorns.
liyou@chinadaily.com.cn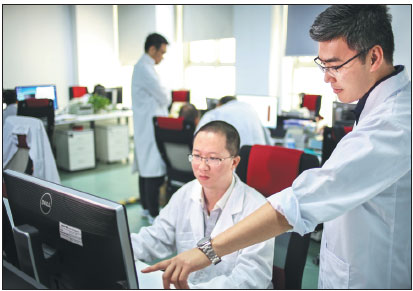 Experts at Borns Robot, a startup company focusing on medical robots in Chengdu, conduct research.Provided To China Daily
(China Daily 05/18/2018 page6)
Today's Top News
Editor's picks
Most Viewed