Alliance gains momentum, increases membership
Membership of Alibaba Group's anti-counterfeiting alliance has tripled since it was established a year and a half ago, according to the Chinese e-commerce and online services provider.
Formed in January 2017, the intellectual property rights protection body, named the Alibaba Anti-Counterfeiting Alliance, has seen its membership rise to 105 brands which sell their products through Alibaba's e-commerce platform, up from 30 at the group's establishment.
The dramatic rise in membership shows growing confidence in collaborative efforts to combat counterfeiting, Alibaba said at a gathering of the alliance on May 4.
The current membership represents companies from 12 industries and includes global brands such as Bose, Canada Goose, Samsung, Adobe, Danone and L'Oreal.
Alibaba created the alliance based on its mission to create a healthy environment for the protection of IP rights. Through the group, Alibaba has been able to work with sellers and brands to implement the latest anti-counterfeiting technologies, including big data, to protect IP across its platforms.
AACA members collaborate to provide proactive online monitoring and protection, a product test-buy program, offline investigations and enforcement, industry-law enforcement workshops, litigation and public awareness campaigns.
Zheng Junfang, Alibaba's chief platform governance officer, said an upgrade has been recently made to its IP protection portal, an online site where rights holders report suspicious products in the online marketplace and share information with the company - offering faster navigation and a better user experience.
Alibaba, which has nearly 620 million monthly active users and 1.8 billion products on its platforms, said it has invested heavily in fortifying IP rights protection and has implemented multiple initiatives and programs to accelerate authentication and takedowns as well as deal with wrongful online vendors.
The results have been noteworthy, the group said.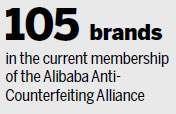 Referring to a cross-country crackdown on counterfeited wine last year, Anna Gibson, director of IP protection for Australian winemaker Penfolds, said tens of thousands of bottles of fake wine were uncovered in Shanghai and Fujian province with the help of the Alibaba's offline task force and local police. Fourteen suspects were arrested.
"When we determined the case was likely to be qualified as a criminal case, we stepped up the investigation and examined relevant information," said Lynn Fu, Alibaba's director of brand protection and cooperation. "Building on mutual trust with the brands, we worked closely with Penfolds to explore potential joint legal or enforcement actions."
Sam Zhou, general manager of group brand protection with Proctor & Gamble Greater China, said the company will continue to work closely with the Alibaba team.
"We look forward to strong collaboration to fight those who criminally exploit legitimate brands and genuine trade via online platforms," he said.
zhouwenting@chinadaily.com.cn
(China Daily 05/17/2018 page17)
Today's Top News
Editor's picks
Most Viewed