IP scene
Beijing
Forum discusses rights theory
The fourth Military and Civilian Integration Forum on National Defense Intellectual Property, hosted on Friday, discussed theories on IP-focused national defense policies and regulations, protection, information services and professional training. Experts from institutes such as the Naval University of Engineering and the Beijing Intellectual Property Court offered academic reports on IP-related military and civilian integration, judicial protection and commercialization. It attracted more than 600 representatives from organizations including government agencies and national defense IP agencies.
Xinhua News Agency
Shanghai
China Brand Day celebrated at expo
To celebrate China Brand Day, which fell on May 10, the city hosted a brand expo and an international forum. The first Exposition on China Indigenous Brand attracted more than 600 noted companies and used modern exhibition techniques to showcase domestic brands' developments, achievements and prospects. The forum was attended by nearly 1,000 experts who discussed issues such as how to expedite China's brand development in the new era.
Xinhua News Agency
Zhejiang
Fakes seized from clothing retailer
The market regulation bureau of Xihu district in Hangzhou recently inspected a clothing retail site and found many of its products illegally printed with famous international trademarks such as Burberry and Chanel. A total of 536 items, valued at 113,849 yuan ($17,880), were confiscated and a fine of more than 170,000 yuan was issued. The bureau also found 132 counterfeit networking cables at a construction site and transferred the case to public security authorities.
Market Herald
Guangdong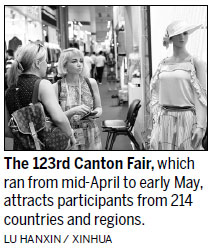 Complaints handled at Canton Fair
The 123rd China Import and Export Fair, also known as the Canton Fair, came to a close recently, announcing that it had handled 421 intellectual property complaint cases. During the fair, complaints against 533 exhibitors were made, 197 fewer than at the previous event. A total of 269 of them were found to have suspected infringements, 61 fewer than the last fair. Xu Bing, the fair's deputy secretary general, said the event has improved its IP protection over the past 26 years and set up an integrated IP system.
Xinhua News Agency
Guangxi
4k GI trademarks registered by April
A trademark publicity event held in the autonomous region on Monday revealed that China had 4,150 registered geographical indication trademarks as of the end of April, of which more than half have become pillar factors in the regional economy. National trademark authorities have dealt with 744 geographical indication trademark infringements since 2009, worth approximately 8.84 million yuan ($1.39 million). They also carried out a six-month nationwide campaign in 2015 to help protect exclusive rights used in such trademarks, with 117 cases worth about 1.11 million yuan being investigated and prosecuted.
Cipnews.com.cn
Jiangsu
Conference tackles internet issues
Changzhou hosted the first China Internet Intellectual Property Conference on Tuesday to promote the integration of the mobile internet, cloud computing, big data and internet of things with modern manufacturing. A main forum and two sub-forums covered topics such as e-commerce, artificial intelligence and shared management of internet IP. The conference also released a declaration calling on intensifying internet IP creation, protection and use, improving internet IP management and services and fostering IP culture.
Economic Daily
(China Daily 05/17/2018 page17)
Today's Top News
Editor's picks
Most Viewed