In US, national and personal progress are different things
To most Chinese, Barshefsky is not a name easy to pronounce. But a woman by that name and her flowing silk scarves are well known in China. I have met Charlene Barshefsky, former US chief trade negotiator, several times in Washington, and each time I saw her wearing one of her trademark scarves, which earlier reports said often "brightened up" the sometimes dull conference rooms during the talks leading up to China's entry into the World Trade Organization in 2001.
That she has impressed the Chinese people is well known. But I always wondered what impressed her most about China. I got the answer the other day at a forum in Washington, where she shared a story that, she said, exemplified the Chinese people's aspirations.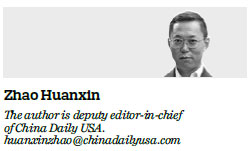 The friendliness of the Chinese people is a soothing reward each time she lands in China after a "painfully long flight", Barshefsky said. "For many years I'm recognized, and even today people ask me for my autograph..."

Today's Top News
Editor's picks
Most Viewed