BMW committed to a new world of autonomous driving
High tech, plants, partnerships set to accelerate testing and production of fully self-driving cars
BMW Group aims to shape the future and transform itself into a technology company, to establish a globally leading platform for fully autonomous driving.
The company said it believes innovation is the critical foundation of its corporate strategy, and has brought this faith to China, providing evidence in July last year.
BMW's Chinese venture, BMW Brilliance Automotive Ltd, expanded its research and development center in Shenyang, Liaoning province, to become the group's largest research and development facility outside Europe.
The new center, covering more than 40,000 square meters, is five times larger than the first phase that entered operation in 2013. It is expected to establish a new link between innovation and application.
BMW Group is committed to expanding its development expertise in the field of automated and autonomous driving. The company can call on its many years of experience and well-founded pool of knowledge, and the know-how of strong partners.
The German automaker has been running autonomous driving tests around the world, with a total of 16,000 kilometers completed in China, and has decided to complete tests of 200 million km worldwide before putting technologies into series production.
Among the areas the automaker is working on is the development and testing of 80 trial vehicles focusing on highly automated driving. These prototypes, based on the BMW 7 Series, will help ensure the timely rollout of the BMW iNext.
The driving force behind BMW's numerous trendsetting technologies is iNext, which is enabling the entire company and all its sub-brands to deal with these issues of the future. The company expects that this approach will lead innovation and technologies to grow together into futuristic exterior and interior design.
Looking forward, the iNext, BMW's first highly automated production vehicle, is scheduled to hit the roads by 2021, and at that time it will have the technical ingredients required for fully automated and autonomous driving, and have integrated all of the company's strategic innovation for the mobility of tomorrow.
Earlier this month, about three years after the launch of Strategy Number One > Next, BMW celebrated the opening of its autonomous driving campus in Unterschleissheim, Germany for the inauguration of a forward-looking development facility that showcases the BMW Group's transformation into a tech company.
The campus is a state-of-the-art center when it comes to offering greater capacity for innovation and increased development efficiency, and ultimately securing the company's future sustainability. Some 1,800 employees there will help determine how the next round of progress will look like - from software right through to road testing.
Fifteen months ago, BMW decided to pool its development expertise in the fields of vehicle connectivity and fully automated driving at a single location.
The group intends to drive forward the development of highly automated vehicles with the new campus, and is looking to recruit IT specialists and software developers in areas of artificial intelligence, machine learning and data analysis.
R&D partnerships
BMW and its partners are working together on standards, platforms and a backend for the future of automated driving.
BMW has engaged in R&D cooperation on a state-of-the-art autonomous driving platform together with Intel, Mobileye, and Fiat Chrysler Automobiles.
The development partners intend to leverage each other's strengths, capabilities and resources to enhance the platform's technology, increase development efficiency and reduce the time taken to bring products to market.
In July 2016, BMW, Intel, and Mobileye announced that they had joined forces to make autonomous driving vehicles a reality by collaborating to bring solutions for highly and fully automated driving into production by 2021.
In August 2017, FCA joined the cooperation as the first member after its founding.
The partners expect to benefit from leveraging data and learning from Mobileye's recently announced fleet of 100 Level 4 autonomous test vehicles, demonstrating the scale effect of the collaborative approach.
BMW Group, Intel, Intel-controlled Mobileye and FCA, together with recently announced development partners and system integrators, have been working on adopting this autonomous driving platform in an effort to create an industry-wide solution.
BMW raised its R&D spending on autonomous driving and electric vehicles by nearly 1 billion euros ($1.22 billion) in 2017 to a total of 6.1 billion euros.
haoyan@chinadaily.com.cn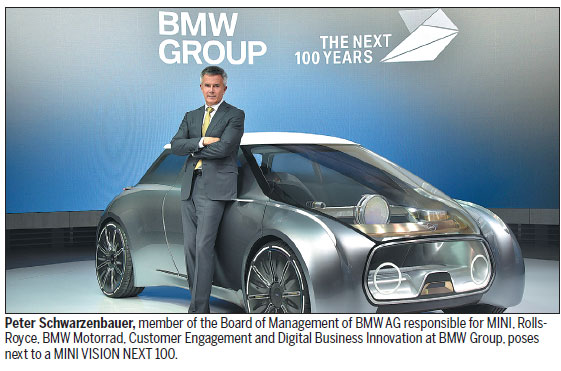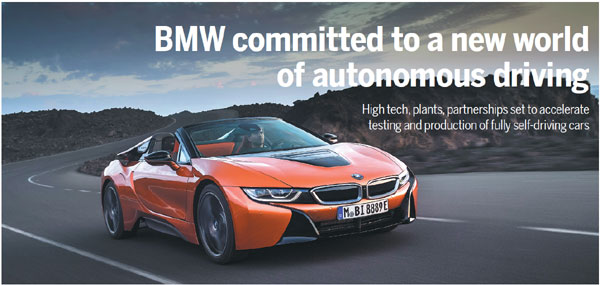 The BMW i8 Roadster is an innovative plug-in hybrid representing the future of e-mobility. Photos provided to China Daily
(China Daily 04/25/2018 page4)
Today's Top News
Editor's picks
Most Viewed