Ford bets on locally-produced new lineup to turbocharge sales in China
After an almost two-year lull in its product cycle, Ford Motor Co is poised to ratchet up its efforts in China, starting with locally produced new Focus and Escort models that will hit the market by the end of the year.
In what was the global premiere for the all-new Focus in Chongqing last week, the carmaker said the latest model will be "the most innovative, spacious, connected and fun-to-drive Focus ever."
Focus variants unveiled at the event include sedans, hatchbacks and the sporty Focus ST-Line.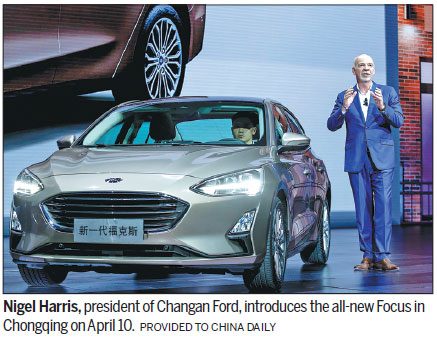 As one of the most popular models in its segment, about 2.6 million Focuses have been sold so far in China.
Nigel Harris, president of the US carmaker's joint venture Changan Ford, said the decision to debut the Focus in China shows the importance of the market. He added that the latest model has been tailored for the Chinese market using local customer feedback - such as more legroom for passengers.
According to the carmaker, the model's wheelbase has been extended more than 50 mm compared with its predecessors, offering more space for passengers' shoulders, knees and legs.
The all-new Focus is also the first Ford model to feature its Co-Pilot360 - a suite of advanced driver assist technologies to help drivers control the vehicle more safely and freely.
Available technologies include Adaptive Cruise Control enhanced with Stop & Go, Speed Sign Recognition and Lane-Centering.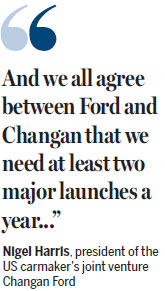 The all-new Focus and new Escort models are just the start of Ford's plan to offer 50 models in China by 2025, and all the models produced at Changan Ford will come with new energy car options.
According to the carmaker, the number of Ford models available in China will double by 2021 from now.
"Chinese customers like new products," Harris said.
"And we all agree between Ford and Changan that we need at least two major launches a year, which is important for us and for our dealers."
Another important weapon for Ford's performance in China is a new national distribution and service network, which is to take shape within the year.
Currently Ford China is responsible for selling imported cars, Changan Ford sells products it produces while another Chinese joint venture, JMC, has its own distribution network. The new organization, which will be part of Changan Ford, will be responsible for marketing, sales and services associated with all Ford-branded passenger vehicles, to offer a simplified and consistent experience for customers, according to the company.
Harris said even current preparatory work for the division has brought about changes such as closer cooperation and faster decision-making, but more tangible effects may take a longer time to reveal themselves.
Among others, Harris said the division will ensure that Chinese customers' voices are heard so that the US carmaker's global team can become more responsive to the Chinese market.
lifusheng@chinadaily.com.cn
(China Daily 04/16/2018 page18)
Today's Top News
Editor's picks
Most Viewed