Boao leads the charge for globalization
That China remains committed to further opening up its economy, and deepening and widening domestic financial reforms were the central messages of President Xi Jinping's keynote speech at the Boao Forum for Asia on April 10.
The address has created new hope that the recent rise in trade protectionism in some economies will be short-lived - and thus not have a serious impact on global economic growth. It has also underlined the fact that protectionism does not enjoy broad-based global support among world leaders. While countries might have specific constituencies demanding protection, as a global policy, protectionism cannot benefit bigger sections of the global population.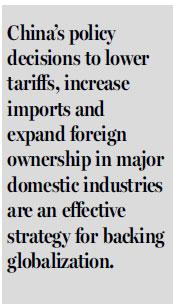 The series of trade protectionist measures taken by the United States in recent days is serious in several respects. To begin with, it undoes the hard work done by the World Trade Organization over the last couple of decades in bringing down tariffs across the world. The multilateral rules-based trade framework has worked well for the world. It has generated new growth opportunities for the developing world, by giving less-developed countries' goods and services access to world markets, developing global supply chains linking low-income countries and enabling the developing countries to attract capital and technology.

Today's Top News
Editor's picks
Most Viewed