Protests in US cities after airstrikes on Syria
British prime minister faces backlash over her decision
WASHINGTON - Dozens of anti-war protesters gathered outside the White House on Saturday against US-led airstrikes on Syria.
Protesters were chanting "hand off Syria", while most of them were holding yellow banners that carry such slogans as "No US War on Syria!" and "Bombing Syria Doesn't Protect People. It Kills Them."
The rally was part of a series of protests in US cities scheduled over the weekend against US airstrikes on Syria, launched collectively with Britain and France on Friday.
The air raids targeted Syrian government forces in response to an alleged chemical weapon use in Syrian town Douma near the capital city of Damascus on April 7.
US-based anti-war and civil rights group, the ANSWER Coalition, denounced the airstrikes as "an outrage," while condemning Washington for what the group called "a criminal assault against the people of Syria".
Some US lawmakers have also questioned President Donald Trump's ordering of the airstrikes.
Senator Tim Kaine, a Democrat from Virginia, said that the president's decision to "launch airstrikes against the Syrian government without Congress's approval is illegal".
Senate Minority Leader Chuck Schumer warned the US against being drawn into a larger war with the Syrian government.
UN Secretary-General Antonio Guterres on Saturday expressed concern over the US-led strike in Syria, and called for adherence to the UN Charter and international law on the issue.
The operations came under question for its legitimacy due to the complete lack of proof that the Syrian government was behind the chemical attack. It has been widely criticized by Syria, Russia and Iran, among other nations.
May faces backlash
British Prime Minister Theresa May faced a backlash from the domestic opposition after launching military strikes on Syria without consulting parliament.
As the Conservative leader explained her rationale for the air strikes, opposition parties claimed the attacks were legally dubious, risked escalating conflict and should have been approved by lawmakers.
The shadow of the 2003 invasion of Iraq still lingers in the corridors of Britain's parliament, when MPs backed then-prime minister Tony Blair in joining US military action.
"Bombs won't save lives or bring about peace," said Jeremy Corbyn, the veteran leftist leader of the main opposition Labour Party.
"This legally questionable action risks escalating further... an already devastating conflict.
"Theresa May should have sought parliamentary approval, not trailed after Donald Trump."
Corbyn has written to May seeking assurance that there would be no further bombing raids and urged the government to negotiate a pause in the Syrian civil war.
Athens protest
Thousands of Greeks turned up at a rally and march in central Athens organized by the Communist Party of Greece to protest the US-led airstrikes against Syria.
The protesters gathered Saturday at Athens' central Syntagma Square before marching to the US Embassy, chanting anti-US slogans and carrying banners.
Police vehicles barricaded access to the embassy and protesters left peacefully.
CPG General Secretary Dimitris Koutsoumbas blasted Greek politicians for believing "flimsy excuses about a use of chemical weapons" by Syria.
Xinhua - Afp - Ap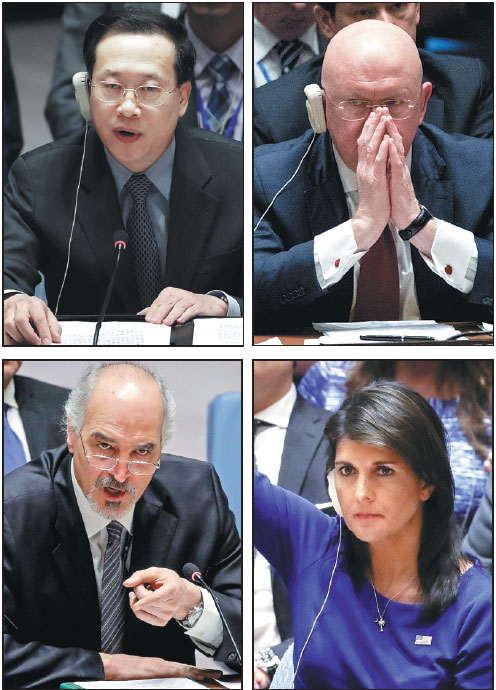 Clockwise from top left: Ma Zhaoxu, the permanent representative of China to the United Nations;Vassily Nebenzia, Russian ambassador to the United Nations; Nikki Haley, United States ambassador to the United Nations; and Bashar Jaafari, Syrian ambassador to the United Nations.Xinhua, Ap, Afp
(China Daily 04/16/2018 page12)
Today's Top News
Editor's picks
Most Viewed