Scenic area revives mythical utopia
City's Taohuayuan resort is said to have inspired Tao Yuanming's classic fable and is a top local tourist attraction today
Just as in the classic fable, visitors to Taohuayuan Scenic Area in Changde, Hunan province, are entranced by the natural beauty of many revitalized scenic locations.
Taohuayuan, or The Peach Blossom Spring was written by a poet named Tao Yuanming in 421 AD. It describes a discovered utopia where people live in harmony with nature.
In the story, a fisherman stumbles across a stream flowing through a forest filled with peach trees. He then discovers a grotto by squeezing through a small opening and at the end he finds a beautiful valley of farms and fields, happy people and lots of animals.
The people of the valley live in harmony, cut off from the outside world which at the time is ravaged by political instability and national disunity. After a few days the fisherman reluctantly has to leave, and despite marking his route on his way out and telling others, the utopia is never found again.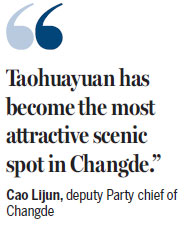 Changde is believed to be the utopia that Tao was describing in his fable, and today the city is home to the popular Taohuayuan scenic spot.
Located in Taoyuan county, which means peach blossom land, the scenic area has undergone a three-year reconstruction project which started at the end of 2014 at a cost of 10 billion yuan ($1.59 billion). The area reopened to the public in September 2017.
Taohuayuan now offers the public improved landscapes and services, and is ready to apply for a 5A scenic rating - the nation's highest-level, said Gao Yangxian, deputy director of the Hunan Tourism Development Commission.
"Tao's fable has not only added unique cultural charms and attractions to Changde, but has also played an important role in promoting the tourism industry in Hunan province as a whole," Gao added.
On March 25, the Taohuayuan scenic resort hosted a peach blossom festival, which Gao said was the first important tourist event in Hunan this year and served as a focal point for the province's new tourism image.
The opening ceremony of the festival was held at Qingu Valley, a core scenic area of Taohuayuan, where clear brooks flow among cottages, golden rapeseed flowers cover a vast area of farmland and cattle graze on lush grass.
Each March, the valley transforms into a mass of peach blossoms, their petals coating the ground. In addition to spending time among the flowers, visitors, like the fisherman, will be reluctant to leave after experiencing folk activities such as archery and herding pigs.
To reconstruct the cultural scene described in The Peach Blossom Spring, staff members at the scenic area wear period costumes and showcase the daily lives of Chinese people in ancient times by farming, growing flowers and feeding animals.
On March 31, the first Saturday after the peach blossom festival, the number of tourists to Taohuayuan hit a daily peak of nearly 40,000, including more than 110 groups organized by travel agencies.
"Taohuayuan has become the most attractive scenic spot in Changde," said Cao Lijun, deputy Party chief of Changde.
"We have developed nine scenic projects there including Taohuayuan ancient town and Qingu Valley, and upgraded hundreds of tourism facilities."
The thriving tourism has brought about new development opportunities for nearby villages.
Almost half of the households in the local area operate rural B&Bs, known as nongjiale, where tourists are able to stay and eat locally produced food. The daily income of these offshoot businesses ranges from a few thousand yuan to over 10,000 yuan.
Tong Hong and Guo Jingmin contributed to the story.
haonan@chinadaily.com.cn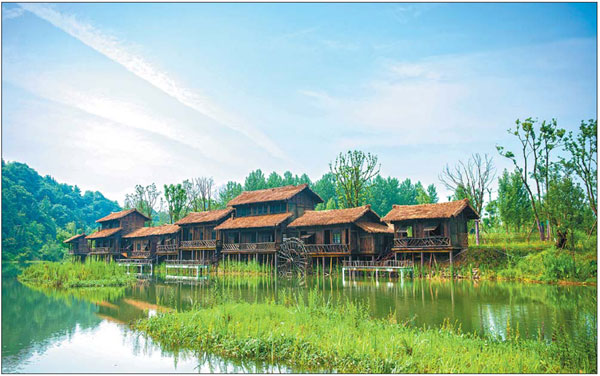 The ancient-styled houses near the Qinxi Stream give visitors an idea of how the people lived more than 2,000 years ago. Photos provided to China Daily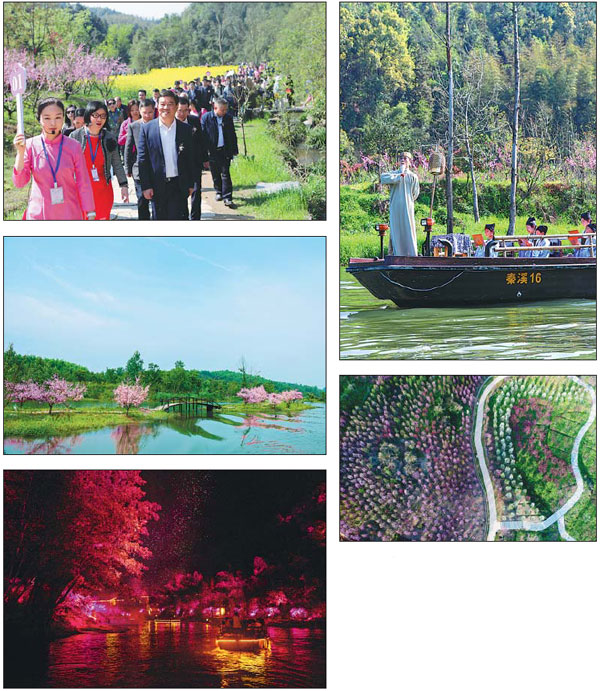 A live performance showcasing the life of ancient Chinese people has become a regular attraction at the scenic area. More than 600 hectares of peach flowers bloom in spring. Tourists take a boat trip along the stream to take the night views. The Qinxi Stream, with peach trees along its banks, is said to be the waterway that the legendary fisherman used to enter Taohuahuan. He Baoxiang, vice-governor of Hunan province, pays a visit to the Taohuayuan scenic spot. Photos provided to China Daily
(China Daily 04/12/2018 page19)
Today's Top News
Editor's picks
Most Viewed