Tangible B&R results to generate wave of growth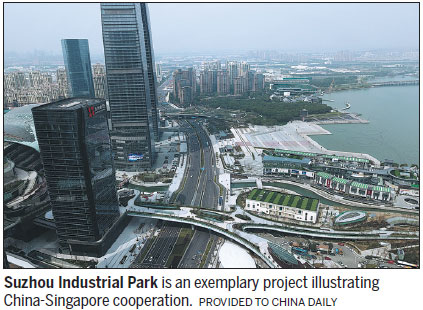 Tangible results from developing the Belt and Road Initiative will generate new momentum for growth between China and Singapore in the current year - especially in the fields of investment, financial services and people-to-people exchanges, leading business experts said.
The Belt and Road Initiative has ignited new waves of development and business interests for countries and regions related to the initiative, including Singapore.
That's according to Ho Chee Hin, group director for China of Enterprise Singapore, based in Shanghai.
Enterprise Singapore is a Singaporean government agency that works with companies to build up their capabilities, innovate and internationalize them, as well as support the growth of Singapore as a hub for global trading and startups.
"Singaporean companies are no strangers to large-scale urban infrastructure projects, with deep expertise especially in Southeast Asia and China," Ho said.
For example, Singaporean urban developer Sembcorp operates seven industrial parks in Vietnam, and is now working with the Vietnamese government on the eighth. Sembcorp has also worked with the Chinese government for over two decades, investing in four industrial parks including the China-Singapore Suzhou Industrial Park.
Ho said Singaporean and Chinese companies could jointly develop more parks in markets related to the Belt and Road Initiative, in order to seek new market growth points.
Proposed by China in 2013, the Belt and Road Initiative comprises the Silk Road Economic Belt and the 21st Century Maritime Silk Road.
It aims to build a trade, investment and infrastructure network connecting Asia with Europe and Africa along and beyond the ancient Silk Road trade routes.
The initiative so far has gained support from more than 100 countries and international organizations. More than 80 nations and international bodies have signed cooperation agreements with China within the framework.
As one of the founding members of the Asian Infrastructure Investment Bank, a Beijing-headquartered multilateral development bank with a mission to improve social and economic outcomes in Asia and beyond, Singapore has committed $25 million to the AIIB.
"Singapore and China have always enjoyed strong bilateral commercial ties," Ho said. "For the past five years, China has remained Singapore's largest trading partner and Singapore has been one of China's top foreign investors."
Singapore and China also signed a memorandum of understanding in Beijing last year, to strengthen economic collaboration and people-to-people exchanges.
"Singapore, moreover, is a major offshore hub for the Chinese currency, the renminbi," said Xue Rongjiu, deputy director of the Beijing-based China Society for WTO Studies.
"The fast development of the Belt and Road Initiative has opened up opportunities for the country with the globalization of the renminbi and overseas investment of Chinese companies."
In addition, Xue said the ability to understand and navigate the complex regulatory landscapes of different countries was also critical for developing big-ticket projects involved in the Belt and Road Initiative.
"Singapore's legal service providers are familiar with the regulations in both China and Southeast Asia to guide companies," he said.
"With its neutrality and transparent rule of law, the country can serve as an ideal dispute resolution center for both Chinese and other companies engaging in projects related to the initiative."
(China Daily 04/10/2018 page15)
Today's Top News
Editor's picks
Most Viewed