Cultural 'superpower' attracts more Chinese
Improved political and business ties - supported by factors including cultural and music events, and new business models - will further boost people-to-people exchanges and tourism between China and Austria in the long run, according to experts.
More than 881,000 Chinese tourists visited Austria in 2017, while about 67,000 Austrian visitors came to China, setting a record since the two governments signed a tourism cooperation agreement in 2010, data from the China Tourism Academy showed.
In addition, a total of 18 pairs of Chinese and Austrian regions and cities have established sister relations.

"Austria has an excellent reputation in China as a cultural superpower, and deservedly so," said Dai Bin, head of the Beijing-based academy, adding that the signs were good for that reputation to continue to spread.
Dai said many Austrian orchestras perform regularly in China, and Austrian artists hold many successful exhibitions in China, showcasing artworks, from both the past to the present day.
"As 2018 is the European Union-China Tourism Year, it will not only help increase tourist flows between China and Austria, but also provide better understanding between the two cultures, as well as create new investment opportunities for the retail, logistics, aviation and hospitality sectors," Dai said.
Research undertaken by Beijing Normal University and published in March forecasts that about 1 million Chinese tourists will visit Austria in 2018.
According to the research, the majority of the Chinese tourists heading overseas have middle to high incomes, with three-fourths spending between 5,000 yuan to 20,000 yuan ($760-$3,040) on their travels this year. They prefer medium-priced or budget hotels and tend to choose self-planned, customized vacations.
Zhang Yuxin, a business professor at Nankai University in Tianjin, said that much of the growth in Austria's tourism sector was being driven by visitors from Asia.
These included tourists from China, South Korea and India in recent years, and thanks to their growing disposable incomes the demand was growing for more wide-ranging travel, not just to major cities, but also to popular towns and the countryside.
"The rapid advance in technology in recent years means even cheap mobile phones are effectively palm-top computers, giving Chinese users instant access to real-time information on almost any topic," he said.
Austria has already started to develop its peer-to-peer economy and new online payment approaches to better cater to Chinese tourists.
China's popular bike sharing giant, Ofo, shipped 2,000 bikes to Vienna in December last year to serve more Chinese tourists and local residents in a rapidly growing market, as the city strives to promote green transport to cut emissions.
Its signature bright yellow bikes can be found at both iconic landmarks and tranquil street corners around the city, and are quickly gaining popularity among locals and tourists alike.
"Austria is the 16th country where our company is present," said Ofo's co-founder Zhang Yanqi.
"We will soon launch our service in two other Austrian cities."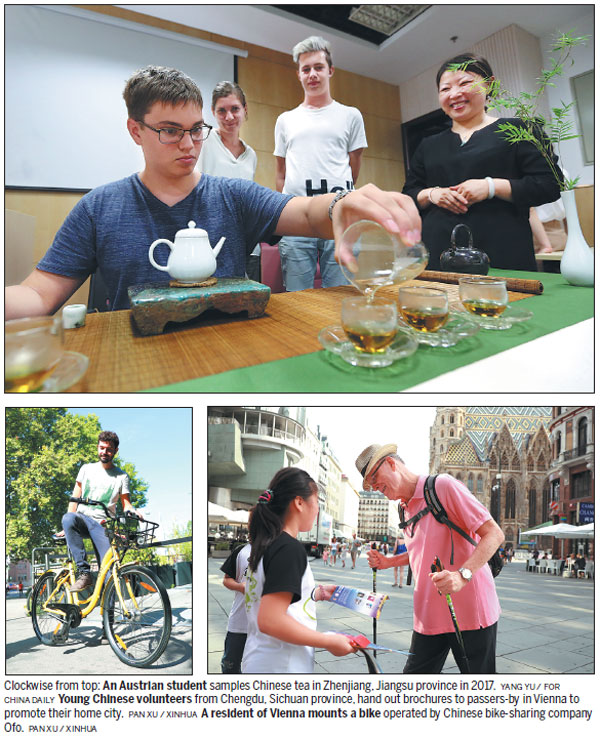 (China Daily 04/10/2018 page12)
Today's Top News
Editor's picks
Most Viewed