BMW Brilliance leads green energy charge with ever-expanding lineup
To contribute to a greener future, BMW Brilliance Automotive is further electrifying its progressive development strategy to ensure its continued leadership in the auto market and to maintain its renowned driving pleasure.
The Sino-German joint venture has kept ahead of the curve in the world's largest market with a wide electric vehicle lineup - including the just-launched all-new BMW 530Le iPerformance - as well as an ecosystem of premium charging services and the BMW Mission i electrified driving experience campaign.
Launched in the market on March 30, the all-new plug-in hybrid vehicle expands BMW's new-energy vehicle offerings in China to six models.
The company 's latest electric vehicle launch will bring new advantages to the automaker, according to Sean Green, senior vice-president of sales and marketing at BMW Brilliance Automotive.

"We are able to produce all the powertrains, combustion or electric, on the same production line as a result of our flexible setup," Green said in an interview on March 30 in Shanghai. "This production flexibility gives us more opportunities. We can respond more quickly to the market and adjust our production plan in a timely manner in accordance with customers' needs," he said.
The all-new BMW 530Le iPerformance shares an assembly line with the 530Li in BMW Brilliance's new plant in Dadong district, Shenyang in Liaoning province.
The high-voltage battery packs powering the China-made electric BMWs are also locally manufactured, at the high-voltage battery center in its powertrain plant in the same city. It is the first battery center of its kind among premium carmakers in China.
The company said it expects this all-new plug-in hybrid to appeal to a broad range of customers and achieve nationwide success, as it offers value for money with many user benefits.
"The all-new BMW 530Le iPerformance is equipped with the most advanced technology in the industry. We firmly believe this car will provide discerning customers in China with electrifying driving pleasure, at excellent value," Green said. Martijn Oremus, head of brand management for new energy vehicles at BMW Brilliance, said: "E-mobility is never merely about products. It's an entire ecosystem that makes customers feel confident and hassle-free when dealing with e-mobility."
BMW's electric vehicle customers enjoy comprehensive public and private charging solutions, which have been even further improved with the new and exclusive Park & Charge service.
Car owners can reserve exclusive Park & Charge spaces in major traffic hubs via the ChargeNow WeChat social media service account, enjoying a premium and convenient charging service. A total of 44 BMW i ChargeNow branded Park & Charge spaces have been installed in Shanghai, including at Hongqiao Airport and Shanghai South Railway Station. The service will be expanded to more locations in the city and other cities later this year, according to the company. The premium carmaker's public charging network will further expand to over 100 Chinese cities with more than 80,000 ChargeNow pillars this year, from 65,000 pillars last year.
The automaker kicked of its Mission i campaign at BMW Experience Shanghai on March 30 to allow consumers to come into contact with BMW electric cars, feel the brand's electrifying driving pleasure and dive into BMW's technologies, said Green.
"We are also showcasing our latest innovations for the future, like autonomous driving, connectivity and shared services. We expect Mission i to elevate brand awareness for BMW electric mobility," Green said.
The four-month campaign is giving the public a chance to experience electrified driving and lifestyles through test drives, touchscreen quizzes, workshops and multimedia activities. Bookings can be made through nearly 100 BMW dealers in over 20 cities nationwide.
The all-new BMW 530Le iPerformance's plug-in charging, wireless charging, and wireless control functions are being demonstrated at the BMW Mission i workshop. The latest model is also among the electric fleets available for test drives and rides.
haoyan@chinadaily.com.cn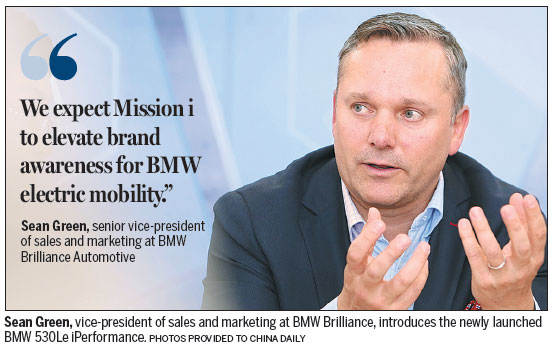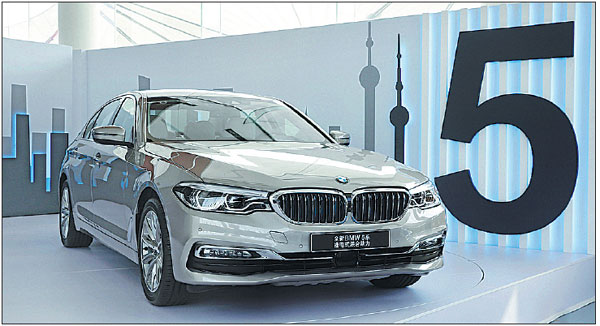 The all-new PHEV integrates sheer driving pleasure, smart energy management and smart charging services.
(China Daily 04/04/2018 page12)
Today's Top News
Editor's picks
Most Viewed