Qingdao boosts big data, cloud computing in digital push
Integration of local businesses with high-tech sectors a bid to align with national innovation strategy
Qingdao, a coastal city in Shandong province, is shifting its focus from manufacturing to cutting-edge digital technologies, with a particular emphasis on big data and cloud computing as key growth drivers.
This year, the city plans to implement the nation's innovation-driven strategy and promote deeper integration of the real economy with digital technologies, including cloud computing, big data, and artificial intelligence. It is targeting 40 percent growth in these core sectors.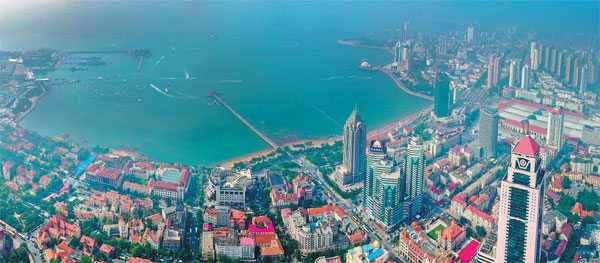 The coastal city of Qingdao is a favorable destination for companies from home and abroad to start new business ventures. Wang Jianhua / For China Daily
The plan was released at the Qingdao people's congress in January, which promoted the strategy of developing the digital economy to a higher level.
In recent years, Qingdao has been nurturing the big data and cloud computing industries, through which it has gradually incubated a complete value chain and a group of star companies, as well as boosting the upgrade of the local manufacturing industry.
Qingdao Zhuosiyue Information Technology used to be a local hardware supplier. It began to cooperate with Chinese telecom giant Huawei Technologies last year, becoming a cloud services provider for the company's operations in Shandong.
From hardware sales to cloud computing services, the company has shifted its business focus and become a player in the local digital industry.
Li Tengfei, the company's general manager, said the cooperation with Huawei is a chance for Zhuosiyue to transform itself into a software service provider and develop its own cloud-based applications.
The booming big data and cloud computing sectors in Qingdao in recent years have helped Li's company to shift its business focus.
"So many leading firms like Alibaba and Huawei have launched operations in Qingdao, and the big data and cloud computing centers built by the local government have brought opportunities to companies like ours," Li said.
In recent years, these two key sectors have seen rapid growth in Qingdao, with more government support and infrastructure in place, as well as the introduction of renowned research institutions and enterprises.
According to the Qingdao big data promotion bureau, the city has finished the construction of a big data and cloud computing center, as well as a national marine data supercomputing center.
A number of big data projects initiated by globally leading companies and research institutions, such as China Unicom, Baidu, Tencent, Amazon, Tsinghua University and Fudan University, have been launched in the city.
Qingdao Big Data Trading Center, the first of its kind in Shandong, became operational in 2017, aiding the extension of the digital value chain in the city.
Some of the companies based at the center have come up with solid research outcomes in the fields of data acquisition, analysis and applications. Those achievements marked the beginning of the process of breaking up the monopolies that foreign companies have in these areas.
The city's officials see the digital economy as a catalyst for Qingdao's future economic transformation, as a group of traditional manufacturers have already used digital technologies to upgrade their production models.
Local companies, such as Hexagon Metrology, Haier and Doublestar, have begun to customize their products, with data analysis helping them to improve their understanding of customers' needs.
Software Company Qingdao Rongdagaoke has stepped up its research into digital technologies. Li Haiyan, chairman of the company, said the rapid development of the big data and cloud computing industries in the city has set out a bright new path for the company's future growth.
Li said that Qingdao has accumulated significant experience in developing the big data and clouding computing industries, and local companies should seize the opportunity to explore further applications of the technologies.
Qingdao has also vowed to equip its administrative departments with the new digital technologies by launching a city government information and resources sharing platform.
The project will be built by local appliance-maker Hisense Group. The company said it will establish an intelligent data system to facilitate administrative services and to improve social governance and public facility management.
Hisense said the comprehensive platform will cover traffic, logistics, healthcare, smart electrical grids and public security. Residents will be able to search for required information, resources and services via the platform.
liyou@chinadaily.com.cn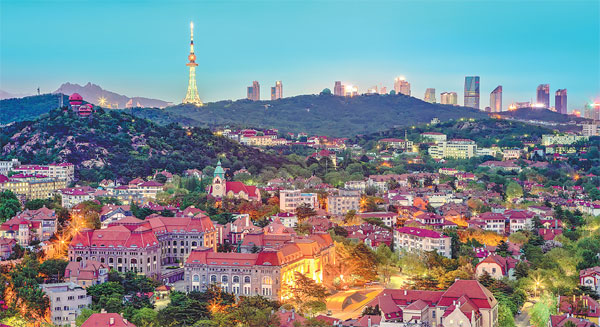 Above and down: Qingdao is a livable city that offers top-notch living and working conditions for entrepreneurs and business professionals. Zhang Kai and Chai Dicheng / For China Daily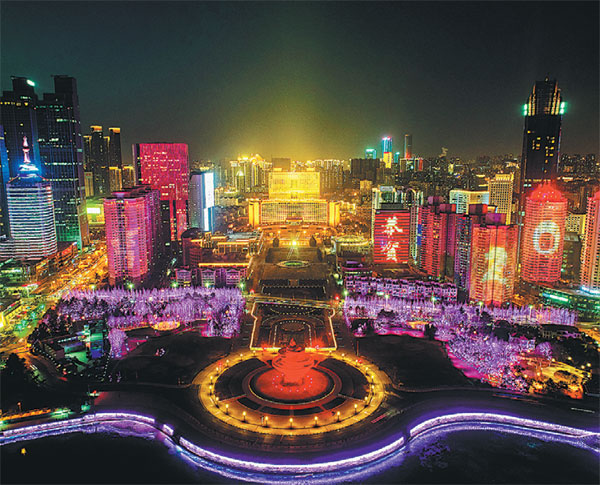 (China Daily 03/08/2018 page12)
Today's Top News
Editor's picks
Most Viewed