Traditional food for thought for Lunar New Year's Eve dinner
Catering companies are offering new stress-free ways of enjoying the most important meal of the year, as Wang Keju reports.
Su Qin was on the edge of losing her composure because her mother-in-law was coming from Hangzhou, Zhejiang province, to spend Spring Festival with Su and her husband for the first time.
The 29-year-old Beijing resident had called six restaurants to book a table for dinner on Lunar New Year's Eve, but with no luck.
While that would not have been a problem last year, before Su got married, it is unacceptable now.
"I cannot afford to mess up the first family reunion dinner with my mother-in-law after my wedding. I want her to feel at home and have a perfect festival after traveling so far," she said.
The Lunar New Year's Eve dinner, also known as the Family Reunion Dinner, is the most important annual tradition in China. Irrespective of distance, family members travel home to be together for the event, whose significance is similar to Christmas Day in the West.
There is no way that Su - "a kitchen disaster", as she calls herself - could magically turn an empty table into a feast. That is despite the fact that she enjoys a sideline as an amateur magician.
Her seventh call was to a restaurant called The Jade Garden, a popular eatery for Huaiyang cuisine - one of the four classic styles of Chinese cookery - but unsurprisingly it was fully booked months ago.
A silver lining
However, the silver lining for Su is that she can order a partially prepared festival dinner of restaurant quality, most of which only needs to be cooked in the microwave for a few minutes.
She said the partially prepared dinner is an ingenious invention for a poor cook such as herself. The meat dishes are already fully cooked, while the vegetable dishes are all sliced and neatly packaged with the appropriate condiments. They only need to be fried quickly in a wok.
"This way, we can satisfy our appetites while enjoying the warmth and coziness of our own home at the same time, which will add a more traditional atmosphere to the dinner," she added.
The New Year's Eve dinner is at the heart of a proper Chinese New Year celebration, and like Su, many people are looking for new ways of preparing the family reunion dinner ahead of the special day.
For example, partially prepared dinners, like the one Su has chosen, have become increasingly popular.
More than 300 stores, including chain restaurants such as Shanghai Min and Meizhou Dongpo, are selling semi-finished products on Taobao, an e-commerce platform owned by Alibaba, ranging in price from less than 100 yuan to more than 3,000 yuan ($15.80 to $477).
According to taosj.com, a Taobao-targeted data platform, between Jan 1 and 15, the volume of trade for partially prepared meals on Taobao reached 1.46 million yuan, a rise of 230.55 percent on a quarter-on-quarter basis.
Liu Guiliang, manager of a branch of the Xinghuacun restaurant in Shanghai, said the outlet offers four different partially prepared festival dinner sets for varying numbers of diners, the cheapest of which consists of six dishes plus rice, and costs 598 yuan.

"More customers are choosing to have the New Year's Eve dinner at restaurants, and some booked more than six months ago. With a limited number of tables, more people - especially those from the post-80s and post-90s generations - have turned to our partially prepared festival dinners this year. We have sold 130 sets in the past month," he said.
Cultural content
Qin Yu, professor of hospitality management at Beijing International Studies University, said the New Year's Eve dinner is considered one of the most important family banquets, and eating it anywhere outside of the family home means losing the inherent cultural content and values.
"However, frankly speaking, restaurants do provide better-quality cuisine and save people a lot of trouble. So partially prepared products combine many advantages and enable customers to enjoy the traditional festival in a tasty way," he said.
The high demand in the catering market also spurs many restaurants to sign up for online food ordering platforms, such as Ele.me and Meituan-Dianping, to provide delivery and takeout services for partially prepared dinners for New Year's Eve.
Song Yi, manager in the South Memory restaurant in Beijing, said the festival dinner delivery market is seeing more opportunities as takeout food gradually becomes a mainstream way of dining in large cities such as Beijing and Shanghai, and as many families retain the tradition of eating at home.
"We have to consider the lack of staff members because many delivery drivers have also headed home, but we promise that our partially prepared festival dinners will be delivered one day ahead of New Year's Eve to ensure that customers will enjoy them on time," he said.
For those who do not want to dine out and have no faith in either partially prepared festival dinners or their own cooking abilities, many chefs are offering their services online, offering to cook in person at a customer's home on New Year's Eve. The lowest price online is about 2,888 yuan, rising to 5,888 yuan for the most expensive.
"With the biggest problem of the New Year's Eve dinner having been solved, I now have nothing to worry about but worry itself," Su said.
Contact the writer at wangkeju@chinadaily.com.cn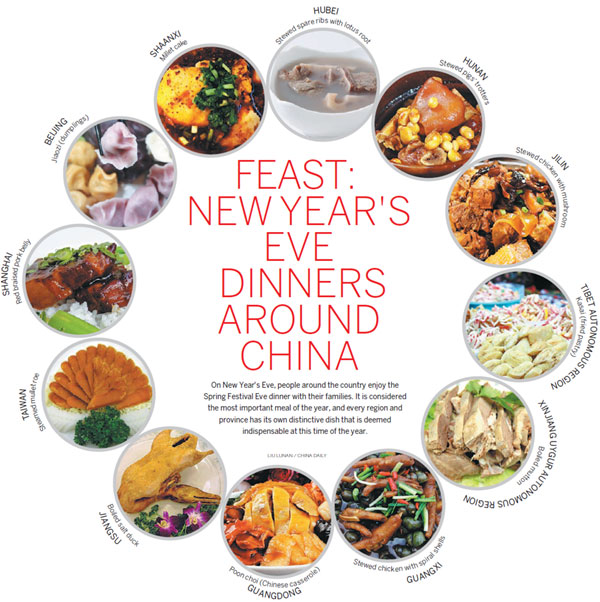 (China Daily 02/15/2018 page6)
Today's Top News
Editor's picks
Most Viewed