Park's friend, Lotte chief jailed for role in bribery scandal
SEOUL - The friend of former South Korean leader Park Geun-hye who was at the center of an influence-peddling scandal that rocked the country's business and political elite has been sentenced to 20 years in jail, a Seoul court said on Tuesday.
The court also sentenced the chairman of the Lotte Group, the country's fifth-largest conglomerate, to two years and six months in prison in the same case.
The Seoul Central District Court not only sentenced Choi Soon-sil to the prison term but also fined her 18 billion won ($16.6 million) for multiple convictions including abuse of power, extortion and bribery.
Choi's lawyer Lee Kyung-jae said he planned to appeal his client's "severely heavy sentence".
The sentence heralds a heavy punishment for Park, who was identified as Choi's accomplice.
Prosecutors originally demanded 25 years in prison for Choi, with a fine of 118.5 billion won ($109 million) and a forfeit of 7.8 billion won ($7 million).
The court ruling said Choi, who was at the center of the influence-peddling scandal that led to Park's impeachment in March last year, abused the presidential power and forced large conglomerates to donate tens of millions of US dollars to two nonprofit foundations controlled by Choi.
She was also convicted of receiving 7.29 billion won ($6.7 million) in bribes from Samsung Electronics Vice Chairman Lee Jae-yong, the heir apparent to Samsung Group, the country's biggest family-controlled conglomerate.
Independent counsel Park Young-soo and state prosecutors claimed that Choi received, or promised to receive, 43.3 billion won ($40 million) from the Samsung heir, who was released from prison after the appeals court's ruling last week.
Lee got a jail term of two and a half years with a stay of execution for four years in the appellate court's trial. The Samsung heir was set free after having spent almost a year in custody.
The longtime confidante of the impeached president was taken into custody in November 2016, and was indicted in the same month on 18 corruption counts. She was accused of intervening in state affairs even though she had no official post in the Park government.
The verdict on Choi heralded a heavy punishment on the ousted president as the court ruled that Choi was complicit with Park in abusing the presidential power and extorting a huge money from large conglomerates.
The sentencing trial for Park was scheduled to be held in late March.
Park has refused to appear in court hearings in protest at the decision to extend her presentencing detention for as long as six months in October last year.
Coercion conviction
Meanwhile, An Chong-bum, former senior secretary for Park, was sentenced to six years in jail and fined 100 million won ($92,000). Prosecutors originally requested a six-year imprisonment for An.
The court verdict said An was complicit with Choi and Park in coercing conglomerates to make donations to the Choi-controlled foundations.
Lotte Group Chairman Shin Dong-bin got a jail term of two and a half years for bribery, forfeiting 7 billion won ($6.5 million). Prosecutors had demanded four years in jail.
Shin was immediately put into custody in the courtroom. The court ruled that the Lotte chairman offered 7 billion won in bribes to one of the Choi-controlled foundations in return for business favors.
Xinhua - Reuters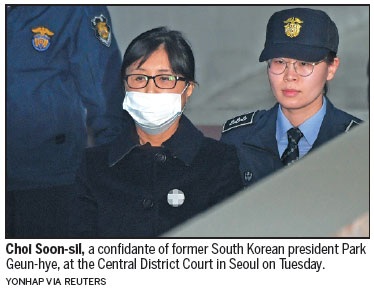 (China Daily 02/14/2018 page12)
Today's Top News
Editor's picks
Most Viewed