Pollution push sees targets smashed, records broken
The abundance of blue sky days in 2017 were easy to spot for residents living in the capital, but not many Beijing citizens noticed the ef orts made behind the scenes in curbing airborne pollutants from coal-fired boilers or out-dated road vehicles.
In 2017, a total of 4,453 coal-fired boilers that failed to meet the city's emission standards were destroyed, a strong action to guarantee the national goal of reducing PM2.5 levels to below 60 micrograms per cubic meter.
More than 7,000 old-fashioned gas-fired boilers were retrofitted to decrease the emission of nitrogen oxide, in the city's campaign to clear up the skies launched five years ago.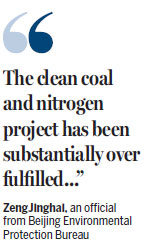 An air pollution plan issued by the State Council in September 2013 ordered Beijing to reduce its PM2.5 density from 90 in 2013 to around 60 mcg per cu m by the end of 2017 - a target it reached ahead of time.
To achieve this milestone, Beijing rolled out a series of measures to reduce pollutants, including upgrading industrial structures, shutting down polluting factories, phasing out vehicles with high emissions and switching to natural gas instead of coal-fired heating.
As of the end of 2017, about 99.8 percent of coal-fired boilers in Beijing had been demolished, said Zeng Jinghai, deputy director of the atmospheric environment management department of the Beijing Municipal Environmental Protection Bureau.
Statistics show that from 2013 to 2017, a total of 8,312 coal-fired boilers have been shut down in the capital, in a move that has saved about 9 million metric tons of coal in total.
In 2017, Beijing surpassed clean energy goals by more than three times. As a result, the city reduced 3 million tons in coal burning for the year, reduced 5,500 tons of smoke and dust emissions and about 6,600 tons of sulfur dioxide emissions, contributing greatly to the air quality, Zeng added.
The city also upgraded some existing boilers with low-nitrogen combustion technology, which enables gas boiler nitrogen oxide emissions to be limited to under 80 milligrams per cu m, with some even limited to as low as can 30 mg per cu m, much lower than the former emissions average of 150 mg per cu m.
With new technology applied in boilers and the transition in energy from coal to electricity or other clean energy, the annual average density of sulfur dioxide fell to a record low of 8 mcg per cu m, lower than the previous record of 28 mcg per cu m in 2012, a decrease of 71.4 percent.
In order to lower PM2.5 density, Beijing is strengthening its management of all dust-raising activities by technological, economic and law enforcement means.
Efforts have also been made to publicize the technology available as well as the punishments for enterprises with excessive emissions of nitrogen oxide, Zeng said.
"The clean coal and nitrogen project has been substantially over fulfilled, providing an effective support for the continuous improving of air quality. In 2018, we will strive to achieve zero coal use at all in plain rural areas in Beijing."
Beijing ShouXingYongAn Heating, established in 1994, is now responsible for providing heating to 4,000 households in two Beijing residential areas.
In 2017, the company completed the ultra-low nitrogen renovation project, and the nitrogen oxide emissions from the heating company reduced from 100 mg per cu m to 30 mg per cu m, Zhang Lei, manager of the company said.
hanlu@chinadaily.com.cn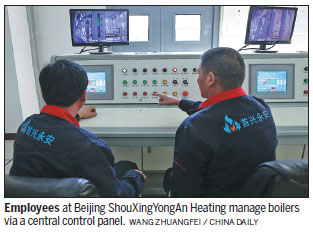 (China Daily 02/13/2018 page7)
Today's Top News
Editor's picks
Most Viewed