Air quality improvement drive paying of in the capital
The number of days with good air quality has increased from 2013 to 2017
Beijing made great progress in improving its air quality in 2017, reducing major airborne pollutants and achieving its national air quality goals to ensure residents enjoyed more blue skies in the capital.
According to the Beijing Municipal Environmental Protection Bureau, the annual average density of PM2.5 - hazardous fine particles measuring 2.5 microns or smaller - was lowered to 58 micrograms per cubic meter in 2017, dropping by 20.5 percent year-on-year.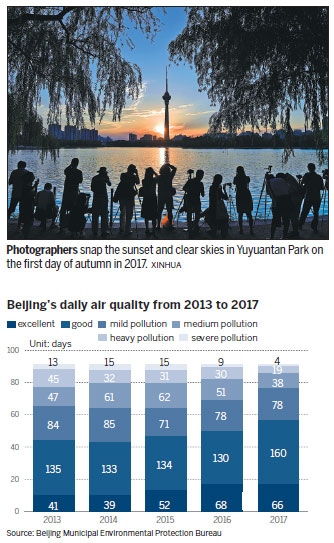 The reduction has surpassed the target of 60 mcg per cu m set by the State Council in 2013.
The average annual concentration of sulfur dioxide in the air decreased by 8 mcg per cu m, falling by 20 percent compared with 2016, also meeting the national standards.
The level of other major pollutants such as nitrogen dioxide and inhalable particles, (also called PM10) dropped to 46 and 84 mcg per cu m, decreasing 4.2 percent and 8.7 percent, respectively year-on-year.
Yu Jianhua, chief engineer of the environmental protection bureau, said that it has been working hard and investing heavily to improve air quality in the capital.
"The Beijing government spent 22 billion yuan ($3.52 billion) on improving the environment last year, which is an unprecedented amount of investment," Yu said.
In 2017, Beijing had 226 days with excellent and good air quality - which is an air quality index of 100 or lower, 50 days more than in 2013.
To maintain the blue skies in the capital, the Beijing government has made great efforts to decrease major pollutant sources, Yu said.
From 2013 to 2017, Beijing put into operation four major gas-fired power plants to replace outdated coal-powered ones. The city also launched a campaign to transform and demolish 39,000 terawatt-hour of coal-fired boilers to help to control air pollution.
The capital's six downtown districts, its southern plain area and Shunyi district are all currently powered by natural gas-fired heating. The proportion of clean energy has risen to 90 percent as of the end of 2017, according to Yu.
In the last five years, Beijing has recycled 2.17 million vehicles with high emissions and installed three-way catalytic converters for 50,000 taxis. The external purification device helps to reduce emissions by filtering and restricting exhaust gas.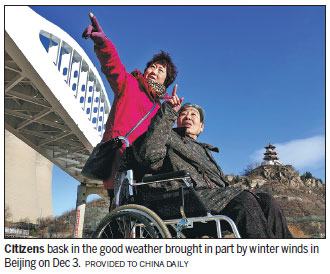 The Beijing government has also helped with the roll-out of 200,000 new and clean energy vehicles in public transportation, so that the proportion of green commuting in central districts reached 72.1 percent in 2017.
In addition, six cement plants have been shut down and industrial businesses that heavily pollute or do not fit the capital's function have been closed or upgraded. So far, 1,992 companies in the commercial printing, casting, furniture manufacturing and other sectors have undergone review. The action at the same time has helped to upgrade the industrial structure of the city.
"To build an integrated system for the prevention and control of air pollution, Beijing continues to enhance economic incentives and environmental standards, as well as studying the causes of atmospheric pollution and strengthening supervision," Yu said.
The Beijing government is also encouraging locals to get involved in environmental monitoring at the community level and set up environmental protection organizations.
Innovation-driven technology has played an important role in the research of air pollution and the monitoring of air quality. The city currently uses satellite remote sensing and laser radar to improve the ability of analysis and evaluation of air quality, Yu added.
Chen Tian, deputy secretary-general of Beijing municipal government delivered a report on the city's lessons learned in combating air pollution at the United Nations Science Policy Business Forum on the Environment in Nairobi, Kenya, in December.
Chen, who has been involved in making environmental protection policies in the capital over the past two decades, said: "Through 20 years of pollution control, Beijing has fostered a great environmental protection industry, which has provided services for economic growth."
caoyingying@chinadaily.com.cn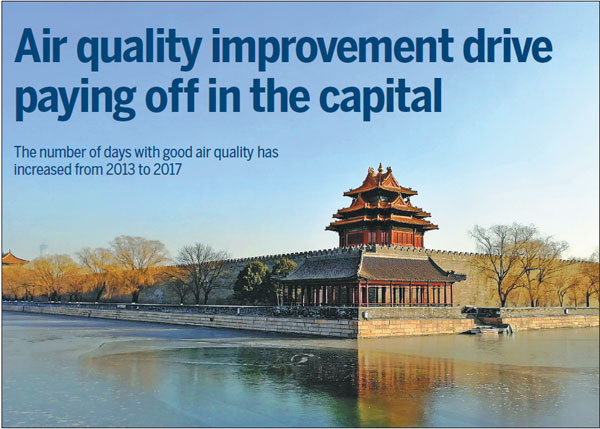 A glimpse of the Palace Museum under blue skies in Beijing on Jan 1.Li You / China Daily
(China Daily 02/13/2018 page7)
Today's Top News
Editor's picks
Most Viewed