Britain's University of Manchester strengthens China engagement
With a history dating back to 1824, the University of Manchester, known for its worldwide reputation, technological prowess in innovation and the academic rigor of its research, has long been committed to promoting strategic links with and sustainable development in China, as well as attaching great importance to its Chinese students and alumni.
The University of Manchester Worldwide China Centre, or the UMW China Centre, which was founded in 2008 in Shanghai, echoes this commitment.
Over the past 10 years, the UMW China Centre has supported nearly 1,300 global MBA students, of whom 30 percent are from different countries and regions, which creates an international and diverse student body with rich learning experience.
Located in the heart of Shanghai and equipped with first-class facilities, the 1,000-square-meter center has a vibrant and friendly environment where alumni from different industries and backgrounds can gather for meetings and discussions.
"We are devoted to cultivating future international leaders in all walks of life," said Sherry Fu, founder and director of the UMW China Centre. "It is our sincere hope that we can represent the best in British education with its spirit and heritage and make it visible, accessible and respectable in China."
To strengthen the exchanges and collaborations with Chinese universities, research institutes and commercial partners, the UMW China Centre has built strategic alliances with local job markets and industry-leading companies, as well as long-term partnerships with China's top universities.
The partnerships with those Chinese universities successfully illustrated the University of Manchester's long-term commitment to China along with its privilege, responsibility and ability in effectively bridging China and Britain in the field of education.
"The development of the UMW China Centre marks one of our major strategic progress in internationalization," said Elaine Ferneley, director of the University of Manchester Worldwide.
Moving forward with the university's international strategy, the China center, along with other UMW worldwide centers in Dubai, Singapore, Hong Kong and Sao Paulo, is set to promote a more diverse portfolio of courses, according to Ferneley.
Currently, the University of Manchester has a global network of 60,000 alumni across 176 countries and about 15,000 alumni in China. Alumni gala dinners were held in Beijing, Shanghai and Shenzhen in Guangdong province in the past few years hosted by the President of the University of Manchester, Dame Nancy Rothwell.
In 2017, the UMW China Centre supported over 100 alumni events and activities including regular thought leader talks, career workshops, company visits, and sports activities to bring together university alumni in the region.
"We encourage sustainable development and feel proud of our alumni who are high-performing individuals in business, management, governance and industries," Fu said. "Our alumni's success is our success."
As a responsible educational service provider, the UMW China Centre has conserved and managed its substantial educational assets in a holistic manner by inviting cutting-edge speakers to deliver free open lectures to thousands of young professionals. The center actively engages with corporate social responsibility projects caring for children and families in need, such as the British Chamber Bright Eyes Project to help children with impaired vision and the Egg Walkathon to fundraise for children from migrant workers' families.
In the future, UMW China Centre will continue to bear social responsibility in mind, to empower the local community to implement education initiatives.
To strengthen Sino-UK engagement, the center also supported "The Best British Business Award" twice which were organized by the British Embassy, the British Chamber of Commerce and the China-Britain Business Council.
Last December saw the launch of the Manchester Cloud, which is afiliated with the Manchester-China Forum and the UMW China Centre. It aims to link Chinese and British government organizations, talent in the arts, science and technology, to build a bilateral people-to-people diplomatic platform.
"The launch of the Manchester Cloud is a result of the comprehensive Sino-UK partnership, oriented toward the 21st century global strategy and a lasting, open and win-win golden era," said Wai-Kit Ho, consul bilateral from the British Consulate-General in Shanghai. Fiona Devine, head of the Alliance Manchester Business School, David Percival, chairman of the Manchester-China Forum and Sherry Fu, director of the UMW China Centre and founder of the Manchester Cloud, as well as senior alumni, witnessed the launch ceremony in Shanghai.
After 10 years of endeavor, collaborating with its Chinese partners, the UMW China Centre will continue its commitment, serving the University of Manchester's international strategy and further exerting its influence in China.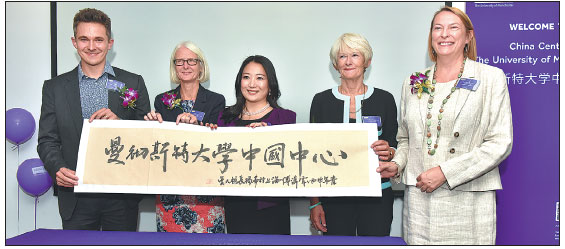 The inauguration ceremony of the University of Manchester Worldwide China Centre is held on Sept 25, 2016.Provided to China Daily
(China Daily 02/02/2018 page20)
Today's Top News
Editor's picks
Most Viewed