Jaguar Land Rover grips Chinese market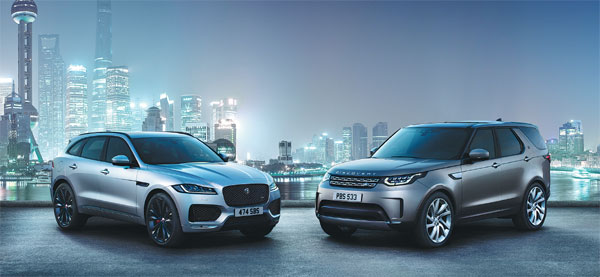 Revving up the market: the Jaguar F-PACE and the All-New Land Rover Discovery. Provided to China Daily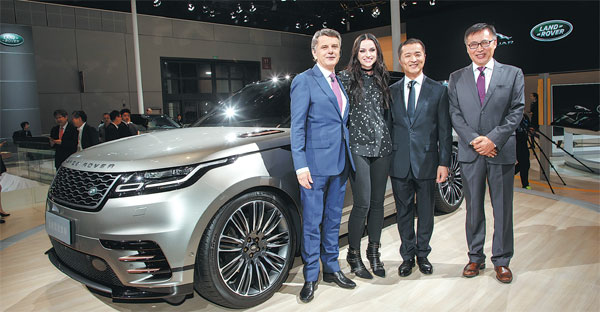 Ralf Speth (left), CEO of Jaguar Land Rover, Pan Qing (second from right), executive director of Jaguar Land Rover China and Chen Anning (right), chairman of the board of Chery Jaguar Land Rover, pose for a photo at the 2017 Shanghai Auto Show.
British premium automaker is driving to success in China, thanks in part to local focus
Q&A
As the world's largest car market, China is a magnet for international automotive brands. Yet in terms of localization, few of them have been as thorough as British premium automaker Jaguar Land Rover.
Since its arrival in 2010, Jaguar Land Rover has developed rapidly through its in-depth understanding of China and efforts to cater to local demands. Sales have grown six-fold since its establishment with sales in 2017 reaching record highs.
One of the most important driving forces of its rapid development has been localization. Its 10.9 billion yuan ($1.7 billion) joint venture with China's Chery Automotive has led to a manufacturing facility in Changshu that is already producing four Jaguar and Land Rover models; and an advanced Ingenium engine plant, Jaguar Land Rover's only overseas engine plant.
China Daily interviewed Jaguar Land Rover CEO, Ralf Speth, to discuss the automaker's success in China and its vision for the future:
Jaguar Land Rover has been successful in China in the past years, with its sales hitting a record of 146,399 units in 2017, what do you think are the most important factors that underlie the company's success story in China?
Our success in China cannot be attributed to just one factor.
Over the last 10 years, we have invested in China, creating a manufacturing plant, building our retailer network and bringing more exciting vehicles tailored to our Chinese customers.
With the premium automotive segment growing in China, Jaguar Land Rover plans to introduce more models, giving our customers more choice.
Our joint venture partnership with Chery has been a key factor in building our business.
We have one of the fastest growing automotive joint ventures in China.
Since the launch of production less than three years ago, we have introduced four new models to the plant in Changshu and later this year, we will add the Jaguar E-PACE to the production plant.
In addition, our ambitious plans saw the expansion of the factory to include China's first all-aluminum body shop and our first overseas engine manufacturing center.
More broadly, we have launched products customized to the needs of the Chinese customer, and continued to improve our product portfolio.
In 2017, we launched the New Discovery, Range Rover Velar, Jaguar XEL, Range Rover PHEV and Range Rover Sport PHEV.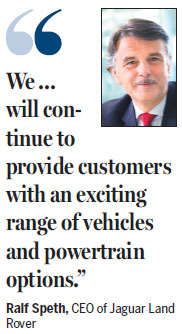 In 2018, we will introduce more products to our extensive portfolio, like the Jaguar E-PACE and our first electric vehicle the Jaguar I-PACE, and give customers even greater choice.
China is an exciting country for Jaguar Land Rover, and our success here is only possible as a result of the hard work of our entire team - from employees to retailers and partners.
China has been Jaguar Land Rover's largest market. Besides a major driving force of its sales growth, what role do you expect China to play in Jaguar Land Rover's future development?
China is important for Jaguar Land Rover and, as our largest single market, has a vital role to play in our future business strategy.
We have a long-term commitment to the Chinese market and will continue to provide customers with an exciting range of vehicles and powertrain options.
Electrification is a hot topic in China and worldwide. Could you please share with us Jaguar Land Rover's plan in this aspect?
We are working towards a cleaner future and from 2020, all new carlines will have the option of electrification, giving customers even more choices.
We will introduce a portfolio of electrified products embracing fully electric, plug-in hybrid and mild hybrid vehicles. Our first fully electric vehicle, the Jaguar I-PACE, goes on sale later this year in China.
We will deliver technologies that are relevant, accessible and affordable in a Jaguar Land Rover way, because the desire to drive fun, sporty, capable cars won't diminish in the years to come.
We will continue our efforts to improve emissions and fuel economy by increased use of light-weighting technologies, vehicle energy conservation and engine downsizing.
First Chinese board member
The carmaker made history when it appointed Pan Qing to its global board of management, as executive director of China operations and also board member of the brand's joint venture, Chery Jaguar Land Rover.
This is the first time that a Chinese mainland-born national has sat on the board of an international automaker.
In the forthcoming new age of mobility, Pan believes that China will play an important role and continue to be a driving force of global growth.
Following Pan's China strategy, the country will become a comprehensive source of resources for Jaguar Land Rover Global, covering production, research and development, innovation, procurement and talent cultivation.
Pan said, "The China market is full of innovation and possibilities, and continues to be an engine of world growth. Jaguar Land Rover is benefiting from this growth and I am confident that China can maintain its position as the leading single-country market."
(China Daily 02/01/2018 page5)
Today's Top News
Editor's picks
Most Viewed