An exotic feast of cheese, and Georgia's on my mind
The food seems to be a well-kept secret, as does the wine and the country itself
When I told a few people recently that I had discovered a Georgian restaurant in Beijing, the most knowledgeable responses I could elicit were "Where is Georgia?" and "What language do they speak there?"
Such ignorance on the part of some demanded a fact-finding visit by me, so I headed to what was likely to be an exotic culinary find, Georgia's Feast, which is tucked away in a side street in the trendy Sanlitun area with a view of the Liangma River.
Awaiting us at the entrance to a two-story white establishment was a copper statue of a wrinkly old man in what I presume is traditional Georgian attire and holding a wineglass in one hand.
Exotic was what I expected, and exotic was what I got: Wooden beams, red brick arched-door, wide windows, chandeliers made from antlers mounted on the wall, and oil paintings of Georgian scenery that made me feel as though I was stepping into an unknown world in which I would be regaled with the heartiest fare.
We were introduced to the chef, the amicable Neli Tomaradze, 57, who told us that she hails from Tbilisi. Things were becoming more exotic by the minute. The restaurant manager, Muhammet Annayev, a Russian, was on hand to interpret from Russian to Chinese as we chatted with Tomaradze, who speaks both Georgian and Russian, but neither English nor Chinese. (So the answer to question two: In Georgia they speak Georgian and Russian.)
If you must know the answer to question one, the country should not to be mistaken with the US state referred to in that jazz-soul classic Georgia on My Mind, but a small, former Soviet country located at the eastern end of the Black Sea, a geographical meeting point for Asian, Persian, Arab and European cultures, especially the Silk Road regions. Its food draws inspiration from a kaleidoscope of flavors among different cultures.
The country is regarded as a cradle of wine that is renowned throughout the Caucasus, yet in China - and I suspect in much of the world - Georgian wines are as obscure as its hidden culinary treasure, and the country itself.
Annayev said: "In all the former Soviet Union, Georgian food gained the most fame and remains the most popular. Now in America and Europe it's becoming better known. Our mission is to introduce Georgian cuisine to Chinese people, and to make it known as much as we can in China."
Some distinct and basic ingredients of Georgian cuisine include garlics, walnuts, onions, eggplants and cheese, Tomaradze said.
To experience traditional Georgian cuisine, one thing you cannot miss is khachapuri (68 yuan), a cheese-filled bread that is the food darling of the nation. This Georgian national staple food comes in different forms in various regions in terms of shape, size, fillings and doughs, Tomaradze said. The khachapuri from Ajara, a most distinguished one from the country's seaside region, is the variation she makes at Georgia's Feast. The dough is formed into a boat-shape with cheese stuffing and the center of the pie is topped with a runny egg yolk before serving.
Eating khachapuri is a fun and fascinating experience for first diners. It is best eaten hot. Following instructions from the waitress, we first stirred the runny egg yolk into molten cheese with a fork, seeing it dripping all over the hot bread to make it a gooey sauce. We then tore off the outer corner crusts - the boat's bow and stern - to dunk into the cheesy and buttery sauce, and gradually ate up the body of the boat.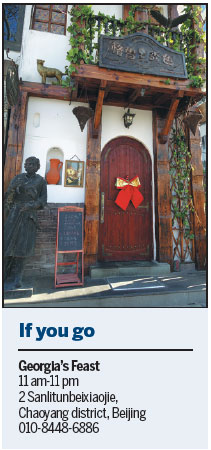 To ensure the authenticity of khachapuri, Tomaradze says, she uses sulguni, a Georgian cheese variety hard-to-find in Beijing that she makes on the premises about 24 hours in advance.
This super stringy cheese, very soft inside the fluffy crusts, was an enchanting discovery, particularly given how little I know of the hundreds of types of cheese there are.
If you like cheese and bread, I am sure this dish will win you over, heart and stomach.
When another staple of Georgian cuisine, khinkali (42 yuan) showed up, I was amazed by how similar it is to Chinese xiaolongbao (soup dumplings). The juicy Georgian dumplings at Georgia's Feast come with your choice of beef or lamb filling.
First diners may find it challenging to eat khinkali. These large dumplings require delicate handling so that you can enjoy both the juice and the meat without spilling anything.
There is an art to eating khinkali: the doughy top, where the pleats all meet, is not to be eaten, but used as a handle for holding the dumplings. So, pick up the dumplings using the top knot, and as you bring it to your mouth, take a tiny bite and slurp up the runny broth within. You can then enjoy the rest of the dumpling, and leave the top knots on the plate as a tally of how many you have consumed.
One dish I found it particularly moreish is chkmeruli, Georgian chicken cooked in garlic and milk sauce. Before I had tasted this, the combination of ingredients did not sound particularly inviting. In fact it turned out to be a compelling dish, no small thanks to the crispy golden skin and well-seasoned roasted chicken. The creamy garlic sauce does not taste greasy, nor heavy at all, but goes perfectly well with the delicious chicken.
One should also not miss Georgia's national soup, kharcho (38 yuan) made of beef, cherry tomato, onion, and celery. Kharcho delivers a distinct flavor with a blend of fragrant spices and herbs.
When I asked about the herbs, our cheerful chef went all KGB spy on me: "They are unique spices grown only in Georgia. The first thing to know is that the names are very difficult to pronounce, and the second is that they are top secret."
To obtain these herbs she has to go back to Tbilisi every three to six months, she said.
"In Georgia the soup can be made with or without rice. We do not put rice in it here so as to be more locally accepted."
Other must-tries at Georgia's Feast are eggplant stuffed with walnuts (32 yuan), Olivier salad (38 yuan), and the moist and delicious Napoleon dessert Georgian-style, the layers being soft and buttery instead of crispy.
dongfangyu@chinadaily.com.cn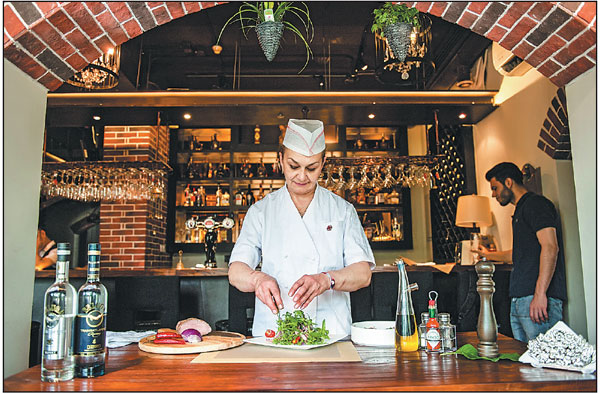 Georgia's Feast's mission is to introduce Georgian cuisine to Chinese people, and to make it known as much as they can in China.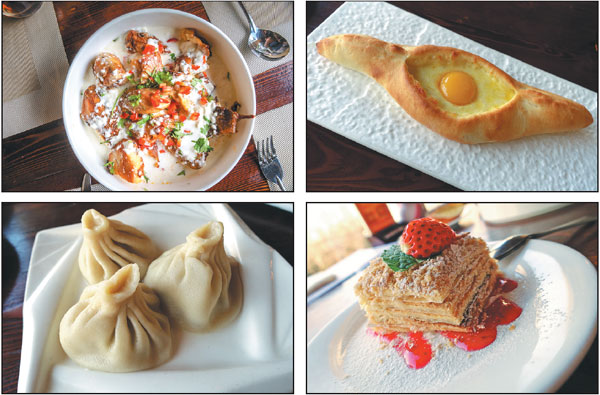 Clockwise from top left: Chkmeruli; khachapuri; Napoleon dessert Georgianstyle; khinkali. Photos By Dong Fangyu / China Daily
(China Daily 01/13/2018 page20)
Today's Top News
Editor's picks
Most Viewed