Top scientist in nuclear, satellite program dies
Yuan Chengye, a renowned Chinese chemist who played a vital role in the "Two Bombs, One Satellite" project, China's nuclear and space program, died on Jan 9 aged 94.
Born in Shangyu county in Zhejiang province, Yuan was a Chinese Communist Party member, a renowned organic chemist specializing in chemical extraction and organophosphorus chemistry, and an academician at the Chinese Academy of Sciences.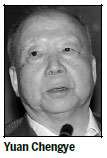 Yuan graduated from China Pharmaceutical University in 1948 before receiving a vice-doctorate in science in the Soviet Union in 1955. In 1956, he worked as a researcher at the Shanghai Institute of Organic Chemistry, Chinese Academy of Sciences.

Today's Top News
Editor's picks
Most Viewed