Belarus opens door to welcome more Chinese tourists
Belarus will further open its doors and expects to attract more Chinese tourists as the countries signed a memorandum in Beijing on Friday.
When Chinese Premier Li Keqiang visited Sochi, Belarus, at the end of 2017, Belarusian Prime Minister Andrei Kobyakov said he hoped the two countries could designate 2018 a Year of Tourism to expand cooperation.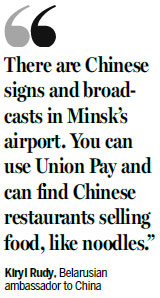 Belarus wishes to use its historical travel route to attract Chinese tourists since the country preserves the most remains of World War II, said Mikhail Partny, vice-minister of the Belarusian Ministry of Sports and Tourism.

Today's Top News
Editor's picks
Most Viewed