French vacation specialist signs co-op agreement to develop tourism projects
France's largest vacation real estate company Pierre & Vacances-Center Parcs Group signed a strategic cooperation agreement to expand its business in China with its local business partners in Beijing on Jan 10.
According to the agreement, PVCP will join hands with CDB Urban Transportation Investment Development Fund, Riverside Group and HNA-PV Tourism Co. Together they will establish an innovative business model by combing operation philosophies and the management of the tourism projects with the support of greater resources and funds.
The four parties are expected to develop cultural tourism via new projects and building short-distance tourism destinations in Chinese towns using PVCP's two established holiday resorts brands - Sunparks and Pierre & Vacances.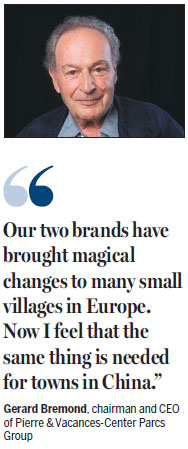 So far it is understood they will develop several projects in various cities and counties, including Haiyan in Zhejiang province in the next five years.
"Our two brands have brought magical changes to many small villages in Europe," said Gerard Bremond, chairman and CEO of PVCP. "Now I feel that the same thing is needed for towns in China."
Under the cooperation, PVCP will be responsible for the branding concepts of holiday resort projects and brand standards in China.
"The core of our brands will be nature and activity," Bremond said. "Chinese people have different holiday habits in comparison with their European peers - Chinese people like to go out to a restaurant and do more activities during the vacation."
He said PVCP will inject more Chinese elements into its tourism projects, open more restaurants and hold more activities for its Chinese projects.
"By cooperating with our Chinese partners, we can utilize the expertise of the tourism exploitation and investment fund to ensure the implementation of our projects," Bremond added.
In 2016, PVCP teamed up with HNA Tourism to found the joint venture HNA-PV Tourism Co to develop tourism in China.
According to the agreement, HNA-PV will focus on building the projects and corresponding operation and management.
The development of tourism in China is facing a new challenge in recent years and contains both possibility and uncertainty, said Xia Nong, president and CEO of HNAPV.
"The four parties should combine efforts to develop a sustainable plan to complete the tourism projects and to change the pattern of rural development in China," he said.
Luo Xiao, president of CDB Urban Transportation Investment Development Fund, an affiliate of China Development Bank, said: "Providing standardized and inflow professional financial services in the accelerated process of new urbanization is our responsibility."
With whole-hearted support from every party, the urbanization development will definitely make way for greater progress in the country, he said.
Riverside Group, a leader in China's cultural tourism industry, will utilize its expertise in the comprehensive integration and planning of projects, combining the "European mode" with the "Chinese cultural tourism" and making a design plan that matches the current political and civil environment in China under the agreement, said Li Zhe, president of board of Riverside Group.
"We have found our place in the world and cooperated with European partners," Li said. "We will keep importing world-class intellectual property and do our part for the upgrade of cultural tourism in China.
"We hope to achieve the goal of making a more beautiful China and creating a more wonderful life."
liangkaiyan@chindaily.com.cn
(China Daily 01/13/2018 page10)
Today's Top News
Editor's picks
Most Viewed