Classic Never Goes Out Of Style
Luxury Sanlitun hotel plays it elegant in era of fickle fashion hotels, Li You reports.
Fashion is a fickle business with the hottest trends coming and going as quickly as the tide that sweeps in and out at the shore. But when fashion is your business, having a central, enduring and classic philosophy is what separates the leaders from the pretenders.
InterContinental Hotels & Resorts, whose flagship Beijing hotel is located in affluent Sanlitun, has been a fashion classic for more than 70 years.
Francois Vanvi, the owner representative of InterContinental Beijing Sanlitun, is proud to say he doesn't follow the ebbs and flows of fashion, but instead has a tireless focus on providing "classic, elegant and comfortable" products for the hotel's many discerning guests.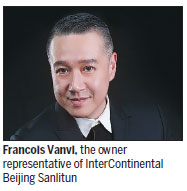 One of the first signs that this hotel is a leader not a follower is in the sheer size of its guest rooms, starting at an impressively comfortable 45 square meters.
All rooms are equipped with cozy furniture to relax upon, spotlessly clean bath tubs, shinning faucets and fresh flowers - as well as captivating views of Beijing's trendy downtown Sanlitun area.
Francois says that though the latest technology plays a role in any hotel, it is not the be-all and end-all. While having gentle nods and winks to technology here and there, the rooms at InterContinental Beijing Sanlitun have a "back to basics" feel at their heart.
"High-tech is not a fit for everybody," Francois says. "Fashionable and elegant things should make people feel comfortable, relaxed and with amenities friendly to use."
But focusing on these basics doesn't mean that the hotel is in any way out-of-date in its style. When high-end devices are really needed, the hotel is up their with the innovative best, which can be seen in its separate business area in its rooms that are equipped with a high-quality audio systems, interactive TVs, high-speed Wi-Fi and internet access.
Apart from a bed to lay the head, weary travelers can also treat their rumbling stomachs at the hotel's veritable treasure trove of authentic restaurants.
Conjuring the gamut of the Orient's finest cuisine, the Ying restaurant serves up a banquet of Chinese classics and traditional flavors from its Michelin menu.
A particular specialty of the kitchen is its drunken chicken roll made with Shanghai yellow rice wine. Diners with an appetite for fresh seafood mustn't miss the chilled abalone, jellyfish and asparagus. Other classics on the menu include Sichuan crispy beef, Liuting-style pork trotter and deep fried turnip puff pastries - all cooked in a traditional style that originates from ordinary Chinese kitchens.
Guests with a Spanish flair should dine at Top Tapas - a living room-style lounge space with a lively atmosphere. A fabulous selection of hot and cold, savory and sweet plates can be enjoyed. Particular favorite is the seafood paella with prawns, mussels, scallops and chorizo.
Char restaurant serves a wide selection of juicy steaks exported from all over the world, such as Blackmore, Jack's Creek and Gape Grim. To keep their original flavor, the steaks are served with a gently sprinkle of sea salt.
Another aspect of the hospitality business that never goes out of fashion is service, and InterContinental Beijing Sanlitun has the philosophy of keeping things "just right". Hotel staff members greet customers warmly and make them feel at home, but are not so overwhelming as to not leave guests their own space, Francois says.
InterContinental Beijing Sanlitun in Chaoyang district only opened in 2016, but has already upheld the esteemed reputation of its brand. The building's design draws inspiration from a hexagonal diamond, shaped by continuous refining of the raw gemstone.
The hotel uses the essential element throughout, from the metallic brass grille outside the building and the shape of doorplates to the figured pattern on the menus.
Francois says the hotel is also equipped with meeting and conference services, an 800-square-meter ballroom and eight function rooms with a total area of more than 1,500 sq m.
Apart for the guest room services, many customers come to the hotel for meetings, conferences, banquets, special events and wedding.
"We are not just an ordinary hotel, from design, uniform, staffing, culture and our values," Francois says. "We believe less is more and authenticity will always be in fashion."
Contact the author at liyou@chinadaily.com.cn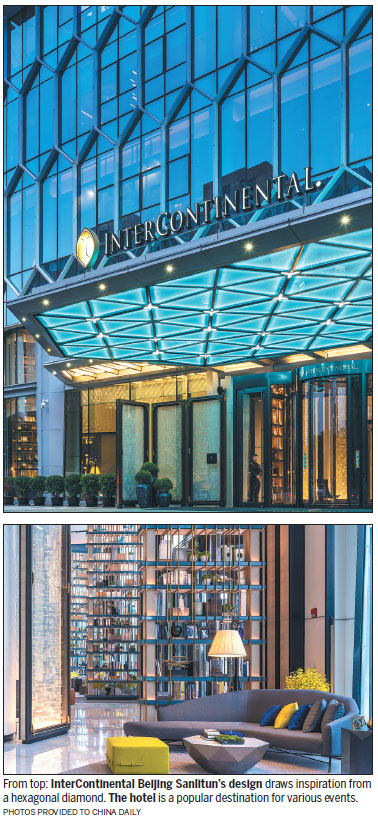 (China Daily 01/13/2018 page10)
Today's Top News
Editor's picks
Most Viewed